High Resolution Concept Art From 'Monsters University' Shows Campus Life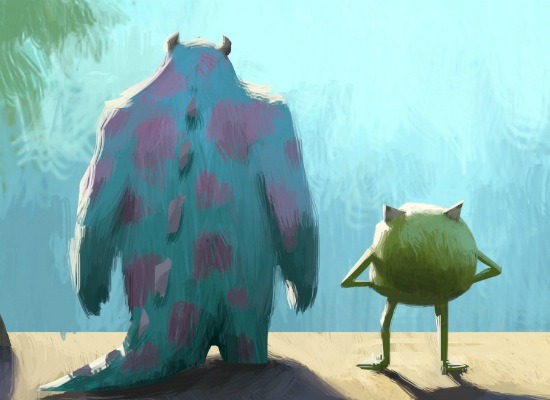 Were four (slightly) different trailers for Pixar's Monsters University not enough to quench your thirst for all things Mike and Sully? Two gorgeous pieces of concept art giving an idea of what the film looks like outside the dorm room should do the trick.
Monsters University hits theaters one year from today, on June 21, 2013, and follows Mike (Billy Crystal) and Sully (John Goodman) as college rivals long before they were great friends scaring kids at Monsters Inc. The trailer released in conjunction with Pixar's Brave gave a good idea of the film's humor but it was largely set indoors. These concept images show the beautiful campus of Monsters University itself. Check them out in high resolution below.
Thanks to Stitch Kingdom for these images. Click on each to view in hi-res.
Here's the plot description of Monsters University:
Mike Wazowski and James P. Sullivan are an inseparable pair, but that wasn't always the case. From the moment these two mismatched monsters met they couldn't stand each other. "Monsters University" unlocks the door to how Mike and Sulley overcame their differences and became the best of friends. Screaming with laughter and fun, "Monsters University" is directed by Dan Scanlon ("Cars," "Mater and the Ghostlight," "Tracy") and produced by Kori Rae ("Up," "The Incredibles," "Monsters, Inc.").
Steve Buscemi, Dave Foley, Julia Sweeney, Joel Murray and Peter Sohn also provide voices.At D23 last year, Pixar showed a bunch of other images from Monsters University and – obviously – it's going to be a gorgeous movie. Pixar movies always are, and these concept images suggest the pattern won't break here. What the movie hinges on is the strength of the story that evolves Mike and Sully from enemies into rivals and even with the trailer we have yet to get any kind of good sense of that.
Are you excited for Monsters University?