Reese Witherspoon And Commercial Director Bryan Buckley Board 'Men Are From Mars, Women Are From Venus'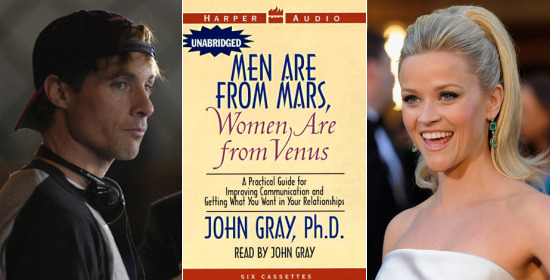 Say what you will about the neverending stream of Twilight-esque YA sagas, comic book sequels, and gritty fairy tale reboots — at least they're working off of actual narratives. Thanks to the success of He's Just Not That Into You, the really irritating new trend in Hollywood is adapting plotless advice books. That film may not have been the first to take inspiration from a self-help tome, but it's likely responsible for the recent rash of similarly themed entertainments like Think Like a Man and What to Expect When You're Expecting.
And the next relationship guide to make it to theaters could be the biggest one yet. An adaptation of John Gray's 1992 bestseller Men are From Mars, Women are From Venus has been in the works at Summit since 2010, and now it's picking up speed as star Reese Witherspoon and commercial directing whiz Bryan Buckley join the project. More details after the jump.
Men are From Mars will mark Buckley's first foray into feature filmmaking after an illustrious career in commercials, but if you've watched TV at all in the past few years you're definitely familiar with some of his past work. Called the "King of the Super Bowl" because he's directed more than 40 ads for the annual event, Buckley is the man behind those Siri spots featuring Zooey Deschanel and John Malkovich, and the New Era campaign starring Alec Baldwin and John Krasinski, and the American Express ads with Ellen DeGeneres and Conan O'Brien, among other things. In addition, he's written and directed several shorts including this year's Narrative Short Tribeca winner Asad.
Summit has had Can't Hardly Wait directors Deborah Kaplan and Harry Elfont on board to write Men are From Mars since last year, with the intention of turning it into — what else? — a romantic comedy. While we don't know any plot specifics at this point, the book's appeal for the studio is crystal clear. Gray's 20-year-old manual about gender differences has sold 7 million copies to date, making it one of the best selling hardcover nonfiction books of all time.
Although Witherspoon has jumped easily between drama and comedy throughout her career, she's become a mainstay of the romcom genre over the past decade. Her upcoming slate is similarly varied, with the West Memphis Three pic Devil's Knot, the art biopic Big Eyes, and the Disney comedy Wish List all in her near future. Men are From Mars is scheduled to go in front of cameras this January.
Revisit some of Buckley's ad work below: