'The Watch' International Trailer - Meet The Guys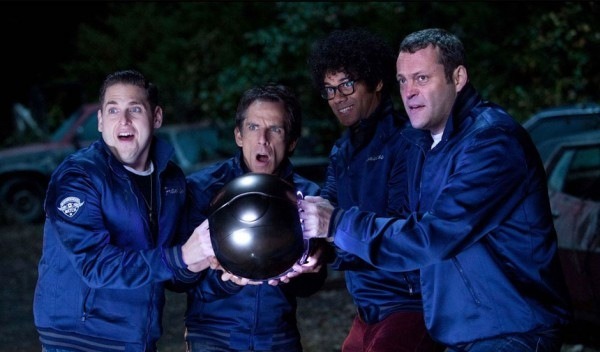 Even as the more dramatic side of his career takes off, Jonah Hill hasn't abandoned his comedy roots. In fact, it's looking like he could be biggest comedy star of the year, with the fantastic 21 Jump Street behind him and the promising The Watch ahead of him. Directed by Akiva Schaffer, The Watch centers around a group of suburban watchdogs (played by Hill, Ben Stiller, Vince Vaughn, and Richard Ayoade) who inadvertently stumble across plans for an alien attack.
Where the earlier trailers have focused mostly on the sci-fi angle of the plotline, the newest international promo explores the characters a bit more, explaining who they are exactly and what brought them together in the first place. The result is the funniest trailer we've seen yet for this film, with tons of new footage including better looks at Ayoade and co-star Will Forte. Watch it after the jump.
[via First Showing]
Hill, Vaughn, and Stiller appear to be playing variations on the same types we've seen them inhabit before — the creepy outcast, the fast-talking party guy, the uptight overachiever — but that's not necessarily a bad thing. There's a reason they're all big comedy stars, and this new trailer definitely brings the funny.
It's great to see Brit transplant Ayoade get some real screen time, as well. If The Watch proves as entertaining as it looks, perhaps it'll do for him what Bridesmaids did for his IT Crowd co-star Chris O'Dowd last year — get him in with Hollywood's comedy heavyweights.
The Watch drops into theaters July 27.
An outrageous comedy in which four everyday suburban guys (played by Ben Stiller, Vince Vaughn, Jonah Hill and Richard Ayoade) come together to form a neighborhood watch group, but only as an excuse to escape their humdrum lives one night a week. But when they accidentally discover that their town has become overrun with aliens posing as ordinary suburbanites, they have no choice but to save their neighborhood — and the world — from total extermination.