WTF: Nicolas Winding Refn Directing 'Barbarella' TV Series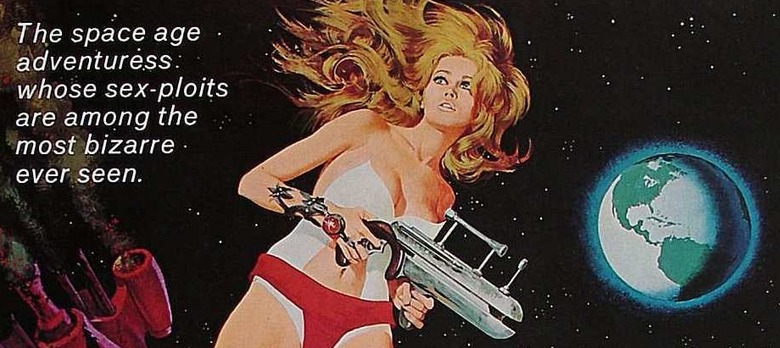 My mind just warped a little bit. While Robert Rodriguez talked for some time about remaking Barbarella, the kooky kitch sci-fi romp starring Jane Fonda and the Orgasmatron, his movie never got off the ground. Then Robert Luketic was appointed director, and that version eventually died as well.
But Barbarella is going to be revamped, and for television no less. And Drive and Bronson director Nicolas Winding Refn is going to do it.
Deadline reports that Gaumont International Television, the same company that is behind Bryan Fuller's new Hannibal TV show, is milking another movie property for television, and that it will use the sci-fi film as a basis. For Barbarella, Gaumont will work with producer Martha De Laurentiis and Refn, with Refn directing and exec producing. (Martha De Laurentiis is the daughter of Dino De Laurentiis, who produced the original film. She's been working on the various film remake incarnations, too.)
In a statement, Refn called Barbarella "one of the ultimate counter-cultural characters." So who does he cast in the role? Jane Fonda's work in the movie is iconic, and it's not an easy role to inherit. But in general, it's not easy to re-do Barbarella without falling into myriad traps — it can easily be too kitchy, too overtly slutty, or just too silly. Roman Coppola got pretty close with CQ, but he skirted around the idea of directly remaking the movie.
I'll say that I think Refn is a great choice, however, and between this and Logan's Run he's got a lock on redoing a very specific sort of sci-fi. Let's hope he's got a good vision for it.
Here's the original trailer for the 1968 Barbarella:
And in a mention of the relationship between Gaumont and Refn, Deadline notes that the company is producing two of his next features, one of which is the in-progress Only God Forgives. What will the other be? Radius-TWC is doing his developing project Button Man; perhaps it is I Walk With the Dead, or another project we don't know about.