Jim Carrey Leaves 'Dumb And Dumber' Sequel Due To Lack Of Studio Enthusiasm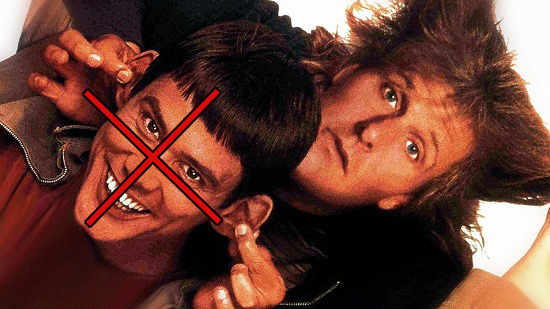 Typically when it comes to cash-in sequels, it's the studio that really wants to make the movie. But in the case of a sequel to Dumb and Dumber, Jim Carrey says that Warner Bros. and New Line aren't very interested in the project, and so he has walked away from it.
ET Online reports that Carrey is out; this is just months after original co-director Peter Farrelly said that he and his brother wanted to do the film, and that original stars Carrey and Jeff Daniels would return.
The actor joked to ET, "I would have thought Dumb and Dumber To was a no-brainer, after all it's implied in the title."
Carrey was among the first to really talk about a new sequel to his early hit comedy, referencing the possibility of a new film when he was out promoting Mr. Popper's Penguins,
We're talking about maybe returning to some old characters that everyone has been asking about ...There's Bruce Almighty and we're talking about maybe another Dumb and Dumber.
And Bobby Farrelly had something to say about it, too:
[Dumb and Dumber] has run a bunch of times on TV in the states, and kids will come up and they'll be able to quote lines from that – lines that I've long forgotten. If we could get those two guys back together, Jim Carrey and Jeff Daniels that might be a worthwhile sequel – and that ball is in motion. We're starting to think about what those two dimwits would be doing twenty-years later in life, and hopefully we'll be able to come up with something worthy of a sequel.
But with Carrey out of the picture, does that mean the whole enterprise goes away? And just when the profile of Jeff Daniels is rising again thanks to The Newsroom!