Pixar's 'Monsters University' Teaser Trailers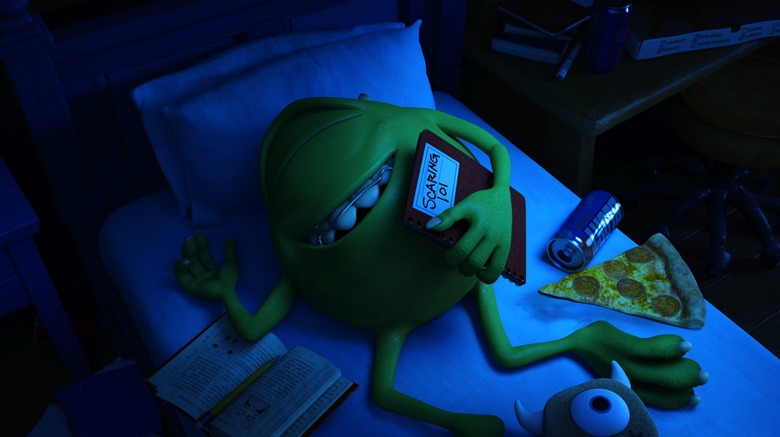 Disney has released the teaser trailer for Pixar's Monsters Inc prequel Monsters University. The film takes us back to when Mike and Sully were in school learning how to scare. Its Pixar's version of a college comedy, and the teaser trailer gives us a glimpse at some of the partying and pranks we might expect. The trailer will be presented in 3D, attached to Pixar's Brave this Friday. But you can watch it now, embedded after the jump. And to complicate things, Disney has released the trailer in four different variations. Please leave your thoughts in the comments below.
YouTube
The Huffington Post (embed via ComingSoon)
Official Information:
DISNEY•PIXAR's MONSTERS UNIVERSITY (In Disney Digital 3D™)
U.S. Release Date: June 21, 2013
Voice Talent: Billy Crystal, John Goodman, Steve Buscemi, Dave Foley, Julia Sweeney, Joel Murray, Peter Sohn
Director: Dan Scanlon
Producer: Kori Rae
Official Synopsis: Mike Wazowski and James P. Sullivan are an inseparable pair, but that wasn't always the case. From the moment these two mismatched monsters met they couldn't stand each other. "Monsters University" unlocks the door to how Mike and Sulley overcame their differences and became the best of friends.
Screaming with laughter and fun, "Monsters University" is directed by Dan Scanlon ("Cars," "Mater and the Ghostlight," "Tracy") and produced by Kori Rae ("Up," "The Incredibles," "Monsters, Inc."). The film opens in U.S. theaters on June 21, 2013, and will be shown in Disney Digital 3D™ in select theaters.
Notes:
"Monsters, Inc.," originally released on November 2, 2001, was nominated for four Oscars®: Best Animated Feature Film, Best Original Score, Best Sound Editing and Best Original Song—"If I Didn't Have You," for which it won.
"Monsters University" will hit U.S. theaters nearly 12 years after the "Monsters, Inc." theatrical debut.
Billy Crystal and John Goodman reprise their roles in the prequel as the wise-cracking Mike Wazowski and lovable Sulley.
"Monsters University" features a host of new faces and a few returning favorites from "Monsters