Disney's Seven Dwarves Getting '7D' Animated TV Spinoff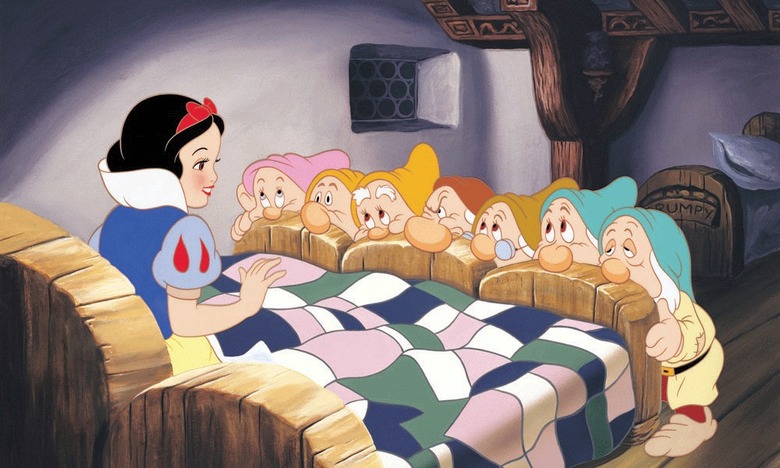 With both Mirror Mirror and Snow White and the Huntsman in 2012's rearview mirror, you'd think we could leave this particular fairy tale behind us for a little while. Instead, it turns out that even as Disney was hitting pause on its live-action feature The Order of the Seven, Disney TV was planning its own revisionist Snow White update, titled 7D, to air on Disney Junior in 2014.
So how exactly does this take on the fairy tale differ from all the other ones? Well, for starters, it seems to do away with the whole "Snow White" character entirely. Instead, the animated kid-oriented series will focus on the band of dwarfs, who also look completely different this time around. Get more details and check out the dwarfs' cute new look after the jump.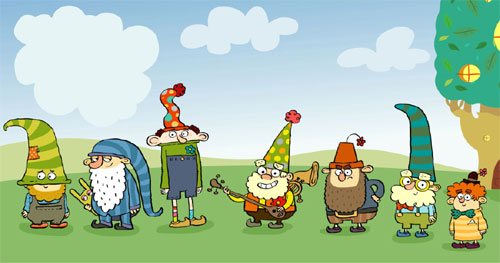 From left to right, that's Bashful, Sleepy, Dopey, Happy, Grumpy, Doc, and Sneezy.
While I'm sure a few hardcore Disney purists will be dismayed by the dwarfs' playful new look, I really dig it. After 75 years at the Mouse House, it's about time the characters got a makeover. These updated designs (from Fish Hooks creator Noah Z. Jones) are fresh and fun.
Besides, it doesn't sound like 7D will have a whole lot to do with the classic Disney movie version of the tale, aside from the dwarf characters. The kid-friendly comedy spinoff will be set in a "contemporary" fairy tale land called Jollywood, and will follow the septet's adventures helping Queen Delightful keep the peace and protect the kingdom from villains Grim and Hildy Groom. There's no mention of Snow White anywhere — in fact, it seems the story takes place before the group ever encounters the unlucky princess.
Jim Hill Media reports that the core audience will be children 2-7 years old, but given the talent involved I suspect it'll prove more adult-friendly than the average kiddie entertainment. Disney has pulled in veterans of Tiny Toon Adventures and Animaniacs, including director Alfred Gimeno, editor Sherri Stoner, and executive producer Tom Ruegger. 7D is expected to debut on Disney Junior in 2014.
[Additional source: Variety]