Rob Zombie Moves Away From Horror, Will Write And Direct Hockey Film 'Broad Street Bullies'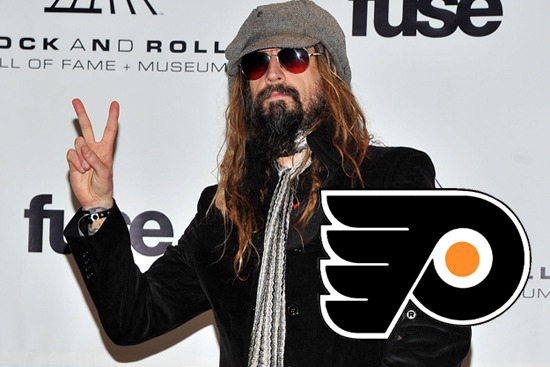 Rob Zombie's film career has been defined by horror until this point: House of 1,000 Corpses, the two Halloween films, and his upcoming The Lords of Salem are explicitly horror, and The Devil's Rejects is such grimy exploitation that it has to be viewed as horror at its core. We've known he might move away from the genre at some point, and that time may be now. And why should guys like Kevin Smith be the only ones to make hockey movies?
Zombie is attached to write, produce and direct Broad Street Bullies, a film based on the career of the upstart and ultimately winning '70s Philadelphia Flyers hockey team. But don't worry about some of Zombie's trademarks; as a '70s hockey film, and specifically one about the 'take no prisoners' Flyers, there's a lot of room for violence here.
Deadline says the film came about thanks to Zombie picking up the film rights to the team, and the Flyers are reportedly fully behind the project. For what he's aiming to make, think "Rocky meets Boogie Nights on ice," and he explains,
Each character involved is more outrageous than the next. The backdrop of the turbulent year of 1974 is perfect for this 'stranger than fiction' sports tale.
The idea is to shoot the film "shortly," and more than anything else, the idea of Zombie making a movie with a happy ending — the Flyers won the Stanley Cup in '74 — is seriously strange.
Here's the 2010 HBO documentary Broad Street Bullies, which chronicles the team in less fictionalized fashion than Zombie is likely to make.
By the way, the trailer for The Lords of Salem has been shown at Zombie's live show during this summer, but there isn't an official online release at this point.