Sam Mendes Schedules His 'Charlie And The Chocolate Factory' Stage Production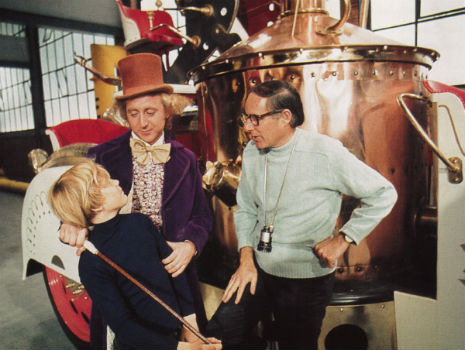 For years, Sam Mendes has talked about making a stage musical based on Roald Dahl's book Charlie and the Chocolate Factory. The most recent time the project cropped up was when the director was going through the early stages of working on the new James Bond film, Skyfall. As that project seemed to stall thanks to MGM's financial situation (since resolved) he considered bouncing to the stage production.
Now, with his Skyfall duties nearing their end, he's back on track to mount the story of Charlie on the London stage. Get info on that production, and see some behind the scenes photos of the original film version of the book, after the break.
reports the following:
Warner Bros. Theatre Ventures, Neal Street Productions and Kevin McCormick today announced that their production of Roald Dahl's Charlie and the Chocolate Factory will open at the London Palladium in June 2013 after a preview period. The new stage musical will be directed by Sam Mendes, with a book by David Greig and new songs from Marc Shaiman and Scott Wittman.
Set and costume design will be by Mark Thompson with choreography by Peter Darling. Other members of the creative team include: Doug Besterman (orchestrations); Nicholas Skilbeck (Music Director); Paul Pyant (Lighting Designer); Paul Arditti (Sound Designer) and Jon Driscoll (Video and Projection Designer).
Sounds like Mendes is working directly from the well-known plot of Dahl's book, rather than making many changes or embellishments. But we'll know more about that in coming months. (Willy Wonka's father probably won't be a dour dentist.)
Tickets will go on sale in October of this year.
And then there's the original film version of Dahl's tale.
recently collected loads of photos from the making of the 1971 film Willy Wonka and the Chocolate Factory, and a few of them are below. Many aren't new, but I expect some will be new to readers who haven't deliberately tried to dig up every morsel of info on the production.