Sequel Bits: 'Star Trek 2,' 'Transformers 4,' And 'Indiana Jones 5'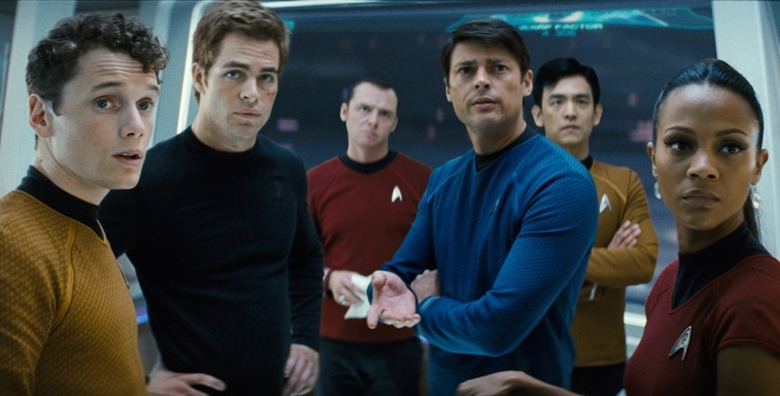 Lots of Star Trek, Transformers and even a little Indiana Jones in this edition of Sequel Bits. After the jump read:
Star Trek 2 co-writer and producer Alex Kurtzman talks about why the film was delayed and won't have a presence at San Diego Comic-Con.
Chris Pine talks about the scenes J.J. Abrams filmed in IMAX for Star Trek 2.
Steve Jablonsky will be scoring Michael Bay's Transformers 4.
Producer Frank Marshall lampoons the idea of Indiana Jones 5 being set at the Bermuda Triangle.
Next week sees the release of People Like Us, a sweet family drama starring Chris Pine and written and directed by Alex Kurtzman. Kurtzman, as we all know, co-wrote and produced both Star Trek sequels, so his reteaming with Captain Kirk has the press asking all kinds of question about their 2013 collaboration, Star Trek 2. As usual, the pair can't say too much but there are a few nuggets out there for us to digest.
First up, talking to Movies.com (via Trek Movie) Kurtzman explained why Star Trek 2, which was originally scheduled for a 2012 release, was delayed until 2013:
We had an amazing time doing it. It really was a joy. Originally, as you probably know,Trek had a release date of this year, and we collectively as the brain trust – J.J. and Damon and me and Bob and Bryan Burk – decided that in order to protect Trek, we had to delay it by one year. We just didn't want to rush it. We felt that we had put so much love into the first movie, and we didn't want a mandate to ruin the work that everyone had done. And I think the fans deserve to feel that their beloved franchise is being protected.  So we delayed for a year to really work on the script, to have the time to shoot the movie correctly, and I'm really excited with what J.J. did. I think we all are.
In the same vein, Kurtzman said that they won't be at San Diego Comic-Con because they really won't have anything ready:
We literally just wrapped, so I think it would be too hard to do that.
Pine is also out stomping for People Like Us and, in an interview with Collider, spoke about shooting some of Star Trek 2 in IMAX:
I think J.J. did a good job of knowing which scenes to marry with the IMAX and which scenes would really pop, like they did with Mission Impossible. When Tom [Cruise] is on that huge building, it made all the sense in the world to do it in IMAX.
With J.J. and company – Alex, Bob and Damon included – what they're really, really good at and what sets them apart is that they know how to do the action, and they know that if you don't give them the small character-driven drama, you can blow up anything you want and no one cares. People will leave the theater because we've all seen it, a million ways. With the second one, people will find that it's the mythic structure, done really well. The character journeys are just perfect mythic structures. They do it so well. The journeys with the characters will be really great, and the explosions and set pieces are going to knock people out of their seats.
Sticking with the massive sci-fi movie theme, Transformers 4 is slowly crewing up for departure aimed at a June 2014 release. While Michael Bay has confirmed the film will have a totally new cast of humans, he's apparently keeping some of the behind the scenes people. Steve Jablonsky, who scored the first three films, has just updated his official website to include the fourth film under current projects. Thanks to TFW2005 for the heads up.
Legendary producer Frank Marshall directed a new documentary that's set to premiere on ESPN and Grantland did a great article on his extraordinary career. Marshall produced all the Indiana Jones movies, Back to the Future, The Sixth Sense and more and in the interview, he said Indiana Jones 5 isn't any closer to being made but that it definitely won't have the Bermuda Triangle as part of it:
If you think about it, in an Indiana Jones movie there's gotta be that quest, that object. It's the Crystal Skull or the Lost Ark. The Bermuda Triangle doesn't fit into that. I could feel with full confidence, without even talking to George or Steven, that we weren't doing that.