'The Master' Teaser #2 - Philip Seymour Hoffman Is A Hopelessly Inquisitive Man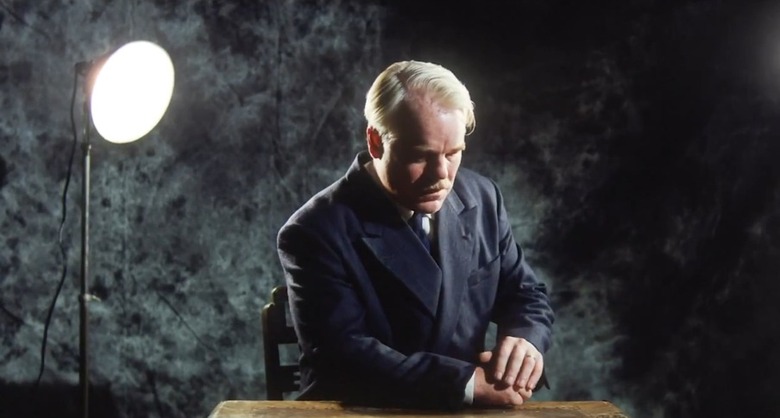 That There Will Be Blood helmer Paul Thomas Anderson is back with a new feature after five long years is exciting enough. Toss in the fact that his latest reunites him with frequent collaborator Philip Seymour Hoffman, and it's no wonder The Master is one of our most highly anticipated movies of the year.
The first teaser was a beautifully crafted, deeply unsettling clip centered on a Navy man named Freddie (Joaquin Phoenix), and the second offers us a much better look at the titular Master himself, religious leader Lancaster Dodd (Hoffman). Not surprisingly, it already appears to be one hell of a performance. Amy Adams, who plays Lancaster's wife, makes a brief showing as well. Watch it after the jump.
Word around the first teaser was that Anderson had cut it together himself, and it looks like he's had a hand in this one as well. Eventually, I assume the marketing team will want to put out a few trailers that actually show what the movie's about, but for now, I hope Anderson keeps doing them. They're wonderfully moody little pieces that intrigue and entice without revealing too much — exactly what you'd want a teaser to do at this point.
It's not technically our first time seeing Hoffman in the role, since we got a tiny peek from a film negative last month, but it is the first time we're seeing him on video. And wow. With some help from an intense score by Jonny Greenwood, Hoffman's turn is already giving me chills. This could turn out to be a portrait of wickedness to rival Daniel Day Lewis' in Anderson's last movie, There Will Be Blood.
The Master opens October 12.