First Image Of Angelina Jolie As 'Maleficent'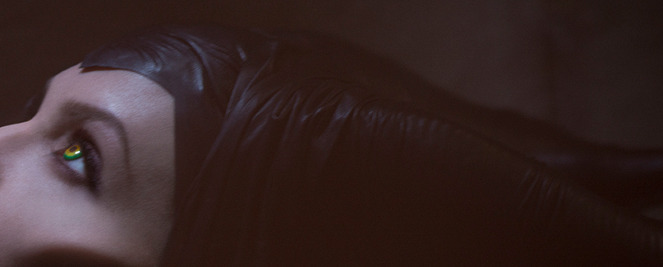 Disney's live-action exploration of the hidden life of Sleeping Beauty villain Maleficent has been on the docket for some time, but it seemed like a film that might never get made. That changed when Angelina Jolie's schedule opened up and she committed to the role in a serious way. (Thank her kids for that commitment, or don't, depending on how you feel about the film.) Robert Stromberg is directing, and the film is under way now at Pinewood studios in London. (They were setting up when I was there to see some of Skyfall, but we couldn't catch a glimpse of anything special.)
Now we've got the first image of Jolie in costume as the evil character, and a few new details thanks to a press release from Disney.
Here's the image. Click to enlarge.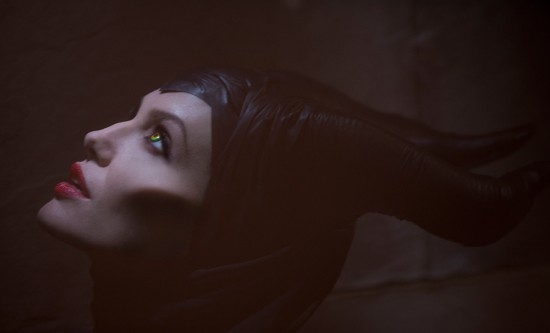 From what we know, Linda Woolverton's script deals with a human/faerie conflict, and Elle Fanning plays the young princess Aurora. Juno Temple, Imelda Staunton, and Lesley Manville play pixie faeries who are giving Aurora a hand, and Sharlto Copley is Aurora's royal father Stefan, the half-human, half-fairy bastard son of the human king (Kenneth Cranham). Miranda Richardson plays Maleficent's aunt, the fairy queen Ulla, Sam Riley is Maleficent's right-hand man who can take raven form, and India Eisley will appear as a younger version of Maleficent.
Here are the pertinent details from the press release:
Directed by two-time Oscar®-winning production designer Robert Stromberg ("Avatar," "Alice in Wonderland"), in his directorial debut, and produced by Joe Roth, "Maleficent" is written by Linda Woolverton ("The Lion King," "Beauty and the Beast") and executive produced by Angelina Jolie, Don Hahn, Matt Smith and Palak Patel.
Co-starring in the film are Sharlto Copley ("District 9"), Elle Fanning ("Super 8"), Sam Riley ("On the Road"), Imelda Staunton ("Vera Drake"), Miranda Richardson ("The Hours"), Juno Temple ("Atonement") and Lesley Manville ("Secrets & Lies").
This is the untold story of Disney's most beloved villain, Maleficent, from the 1959 classic "Sleeping Beauty." The film reveals the events that hardened her heart and drove her to curse the baby, Aurora.
Behind-the-scenes talent includes Academy Award®–winning cinematographer Dean Semler ("Dances with Wolves," "In the Land of Blood and Honey"), production designer Gary Freeman ("Saving Private Ryan," "The Bourne Supremacy"), two-time Oscar® nominated costume designer Anna B. Sheppard ("Schindler's List," "The Pianist") and seven-time Academy Award–winning makeup artist Rick Baker ("Planet of the Apes," "Men in Black").
"Maleficent" is scheduled for a March 14, 2014 release in 3D.