POTD: Mel Brooks And David Lynch Get Honorary Degrees From AFI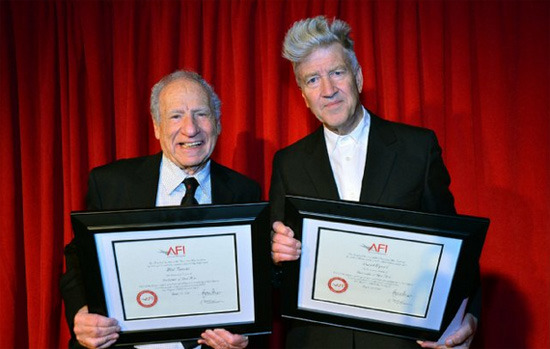 It's easy to overlook the fact that David Lynch's career is inexorably linked to Mel Brooks. The two men don't seem to have much in common. But  when Lynch's first feature Eraserhead was on screens, one of Brooks' producers, Stuart Cornfeld, saw the film and recommended Lynch as someone to work with. That ended up leading to The Elephant Man, which landed Lynch a Best Director Oscar nomination and established him as a filmmaker who could do more than outrageously weird stories.
Lynch had also been part of AFI's class of 1970 — Eraserhead was made during Lynch's tenure at the school — and yesterday AFI honored both Lynch and Brooks with honorary Doctorate of Fine Arts degrees. That's one shot of the two men at the ceremony, above, but there is a much better image of the two grads below.
Laura Dern, whose breakout role was in Lynch's Blue Velvet, presented the director with his degree, and said, "Yes, in fact David Lynch is the reason that I have never worn a gown until today. I told him I was excited that it was because of him that I finally have one on."
Lynch said of AFI, "If AFI put me on the map, which they certainly did, Mel Brooks put me on a beautiful mountain," and took questions from other graduating students rather than giving a long speech of his own.
Here's the best image of the two filmmakers: