'Resident Evil: Retribution' Trailer - Video Game Franchise Gets A 'Total Recall' Twist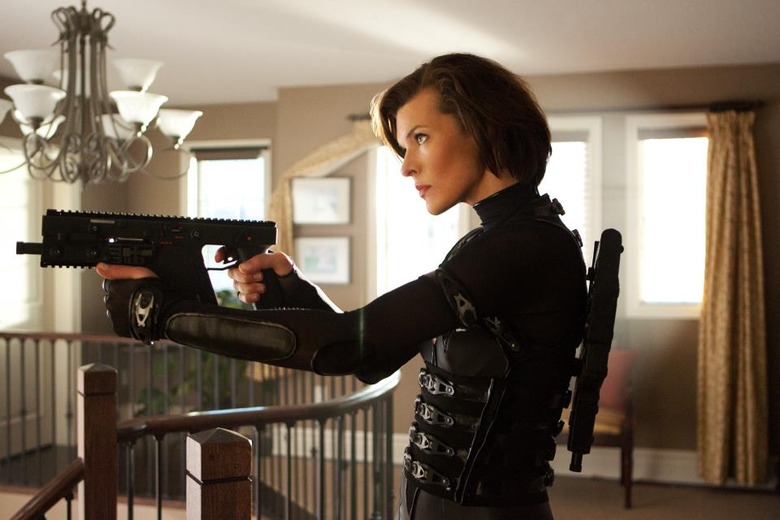 Milla Jovovich is back in the fifth installment of the Resident Evil series, Resident Evil: Retribution, and the first trailer has just come online. Scheduled for 3D release on September 14, it seems Umbrella has embedded Alice with false memories of a perfect life in order to stop her from taking down the evil, monster making corporation. This, of course, results in a global scale sci-fi action rendered Paul W.S. Anderson-style, with lots of nods to the popular video game series. Check out the trailer and more after the jump.
Thanks to the Resident Evil Facebook for the reveal. Here goes.
Here's the official plot description giving a bit more context to what you just saw:
The Umbrella Corporation's deadly T-virus continues to ravage the Earth, transforming the global population into legions of the flesh eating Undead. The human race's last and only hope, ALICE (Milla Jovovich), awakens in the heart of Umbrella's most clandestine operations facility and unveils more of her mysterious past as she delves further into the complex. Without a safe haven, Alice continues to hunt those responsible for the outbreak; a chase that takes her from Tokyo to New York, Washington, D.C. and Moscow, culminating in a mind-blowing revelation that will force her to rethink everything that she once thought to be true. Aided by newfound allies and familiar friends, Alice must fight to survive long enough to escape a hostile world on the brink of oblivion. The countdown has begun.
Not being a fan of this series, I have to say that Retribution does look like the biggest and most interesting version yet. The shot of the huge, King Kong-like animal falling through the building piqued my interest for sure. That said, unless the reviews are much better than the last few, I likely won't be checking this one out. Are you a fan? How does this trailer look?