Chloe Moretz Says 'Carrie' Remake "Messes With Your Mind;" Portia Doubleday And Judy Greer Added To Cast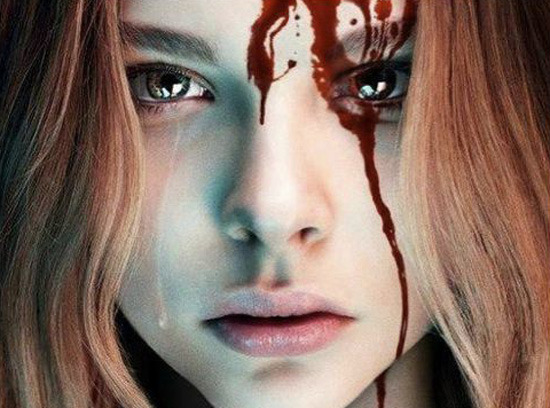 With a few exceptions, the idea of remaking a classic horror film has proven to be one that faces many pitfalls. And when the original in question is Brian De Palma's version of the Stephen King story Carrie, a film crafted with impressive style and quite a lot of moxie, there might be more pitfalls than usual. De Palma's favored split-screen technique has been put to work telling many stories over the years, but the use of the device in Carrie is particularly good. The film is one of the director's best, and one of the best adaptations of King's work. It's a tough act to follow.
But Boys Don't Cry director Kimberly Peirce is an interesting choice to tackle a new version of Carrie, and she's got a good start with the cast, as Chloe Moretz is the titular young girl whose telekenetic powers and emerging puberty put her at odds with her fundamentalist mom, played by Julianne Moore.
Portia Doubleday (Youth in Revolt) and Judy Greer (Arrested Development) were also added to the lineup today. More info on their roles, as well as Moretz's comments about the Black Swan-like tone of this version, are below.
Deadline reports that Doubleday will be "bad girl Chris Hargensen," played by Nancy Allen in De Palma's film, while Greer will be Carrie's gym teacher, who tries to help Carrie deal with her sudden onset menstruation one day at school. Doubleday is the primary villain in the film, or at least the antagonist who has a deep hatred for Carrie, and plans a practical joke that helps push the young girl over the edge.
Speaking to Vanity Fair before picking up the 2012 Max Mara Face of the Future honor, Moretz had a couple things to say about Carrie:
I am changing everything about me—my hair, my look... I'm doing my own take on [the character]. The script is totally different from the [original]. It's more like the book. It's a more Black Swan version—it messes with your mind. You'll see things, and you don't know if you've seen them.
In the De Palma film, there's really no question over whether Carrie's powers are real or imagined — the film very much creates an "all-in" sense of reality. As far as I recall from King's novel, there wasn't much ambiguity about Carrie's powers there, either. But a slightly more hallucinogenic telling of the story could help distinguish it from De Palma's version, if nothing else, and possibly put us deeper into Carrie's fragile mind.