First 'Life Of Pi' Clip Online; New Banners Show Off Gorgeous Imagery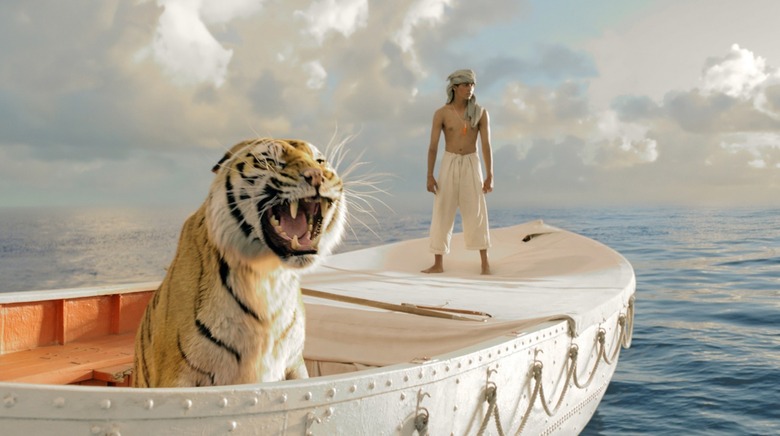 Fox's official website for Ang Lee's literary adaptation Life of Pi is up and running, and while it's currently light on useful info, it is full of gorgeous imagery to ooh and ahh over. There's a brief 10-second clip showing what appears to be an early encounter between protagonist Pi (newcomer Suraj Sharma) and the tiger Richard Parker, with whom Pi gets stranded at sea after a shipwreck. Plus, the site features a series of stunning banners. Hit the jump to see more.
Richard Parker is appropriately terrifying, but I don't think there's much else to be gleaned from this. There's been a lot of fantastic early buzz for the look of the film and Lee's use of 3D, but I doubt a brief 2D video clip on a computer screen is going to do his cinematography justice.
The banners may actually be more revealing — and more exciting — than the video. They seem to be of scenes from the movie, though they're obviously dressed up for marketing. I love the watercolor effects they've used here, which add a dreamy, magical feel that seems just perfect for the movie.
It seems like Fox believes they have a potentially massive hit on their hands, and the folks who got to see clips at Cinema Con seem to agree. Including our own boss, Peter Sciretta, who couldn't say enough nice things about Lee's 3D work, our pal Frosty at Collider, who called it "everything you want a movie to be." Here's hoping we'll get to feast our eyes on a real trailer sooner rather than later.
Based on the acclaimed novel by Yann Martel, and also starring Irrfan Khan, Gérard Depardieu, Tobey Maguire, Adil Hussain, and Shravanthi Sainath Tabu, Life of Pi opens November 21. The official website can be found here.
[Source: The Film Stage]