'The Lone Ranger' Got Really, Really Expensive Once Again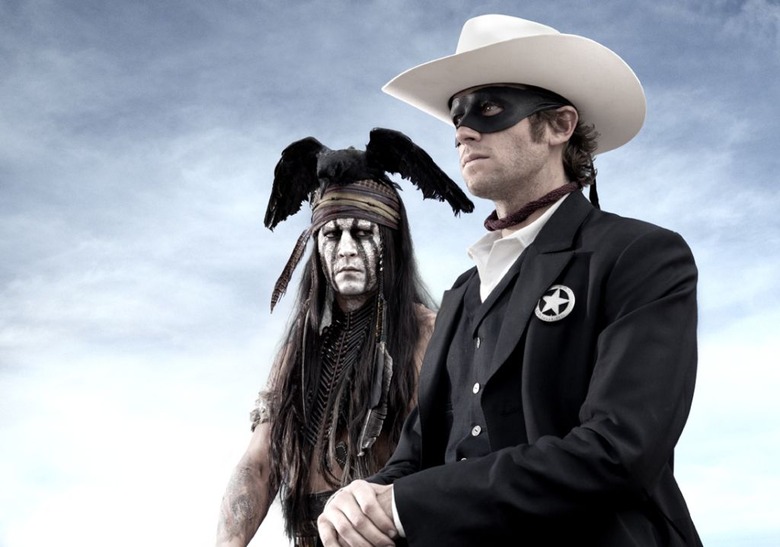 Remember months ago when Disney put the development of Gore Verbinski's The Lone Ranger on ice because the budget had ballooned up to $250m or more? The studio is probably having flashbacks to that point, because the film is reportedly now over budget to the point where it is going to cost $250m or more; part of that budget overage has to do with the film being way behind schedule.
If the accounts are correct, Gore Verbinski may have to trim scenes back again. So what does that mean for a film that was already rewritten once late in the game, and is now being rewritten again? Johnny Depp and Armie Hammer play the leads, and they'll play right into Disney's plan to sell the film to audiences worldwide, but will they be enough to save the film?
THR passes word from "insiders" that the movie is days or possibly weeks behind schedule (big difference there) and that the schedule factor, and others, has put it way back over its revised budget to the quarter-million dollar status.
So what happened?
Part of Disney's concern with the early budget for the film, which then featured more supernatural elements and, supposedly, Native American werewolves, is the fact that Verbinski is known for going over budget. Sure, three films he did for Disney were all shot partially on water, which is notorious for making a film more expensive than planned. But there seemed to be an awareness that he was going to overrun the planned budget one way or the other.
THR also says that Verbinski built period train reproductions from scratch rather than using existing trains, and weather disruptions have also been a problem, with wind and dust storms damaging sets. (Shooting in the desert can be a pain in the ass.) Then there's the void in Disney leadership, as Rich Ross was fired this spring and Alan Horn only took over in the top position last week.
In the long run, we'll have to see The Lone Ranger before coming to any conclusions about what these problems mean. Strife can be a positive factor in creative endeavors, and from that angle, this could all be good for the film. And along with all the bad news, THR reports that those who have seen footage have great things to say, though whether that could just be the trade trying to ease the blow of the report is open to question.
Taken along with problems that Paramount is having with World War Z and G.I. Joe: Retaliation, it's a cautionary tale about how easily things can go wrong, and how budget-conscious studios need to plan even more than they think they do before committing to giant films.
The film, scored by Jack White and also starring Tom Wilkinson, William Fichtner, Barry Pepper, James Badge Dale, Ruth Wilson, and Helena Bonham Carter., is still set for a July 3 2013 release.
The Lone Ranger is a thrilling adventure infused with action and humor, in which the famed masked hero is brought to life through new eyes. Native American spirit warrior Tonto (Johnny Depp) recounts the untold tales that transformed John Reid (Armie Hammer), a man of the law, into a legend of justice—taking the audience on a runaway train of epic surprises and humorous friction as the two unlikely heroes must learn to work together and fight against greed and corruption.