'Django Unchained' International Trailer Offers Fresh Footage, New Dialogue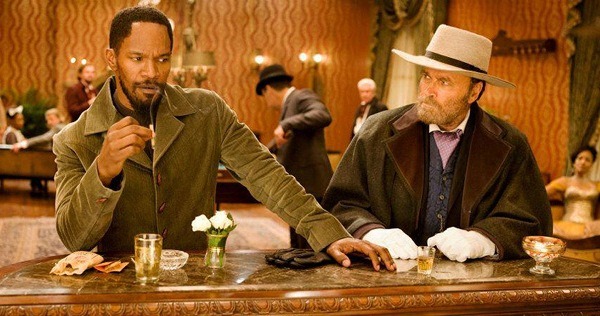 A new international trailer has just hit for Quentin Tarantino's "Southern-fried Western" Django Unchained. While the new video hits most of the same beats, explaining how bounty hunter Dr. King Schultz (Christoph Waltz) comes to join forces with slave Django (Jamie Foxx) to track down the murderous Brittler brothers and rescue Django's wife (Kerry Washington), the new video offers some fresh new footage and dialogue along the way. Watch it after the jump.
Naturally, it still ends on that same soon-to-be-iconic line: "The D is silent."
I don't think there's a ton of new stuff to be learned here. Some of this is definitely new to us, like the snippet of the slave fights that villain Calvin Candie (Leonardo DiCaprio) presides over. In a lot of the cases, we just seem to be getting different moments of the same scenes we've already seen. But it's still cool to get a few glimpses of new footage, and this movie just looks better and better the more we see of it. Foxx obviously nails it, even if he wasn't some people's top pick when the casting was first announced.
Django Unchained hits December 25, because nothing says Christmas like a gleefully violent movie about slavery.
Set in the South two years before the Civil War, DJANGO UNCHAINED stars Academy Award®-winner Jamie Foxx as Django, a slave whose brutal history with his former owners lands him face-to-face with German-born bounty hunter Dr. King Schultz (Academy Award®-winner Christoph Waltz). Schultz is on the trail of the murderous Brittle brothers, and only Django can lead him to his bounty. The unorthodox Schultz acquires Django with a promise to free him upon the capture of the Brittles – dead or alive.
Success leads Schultz to free Django, though the two men choose not to go their separate ways. Instead, Schultz seeks out the South's most wanted criminals with Django by his side. Honing vital hunting skills, Django remains focused on one goal: finding and rescuing Broomhilda (Kerry Washington), the wife he lost to the slave trade long ago.