Ray Winstone May Be 'Noah' Villain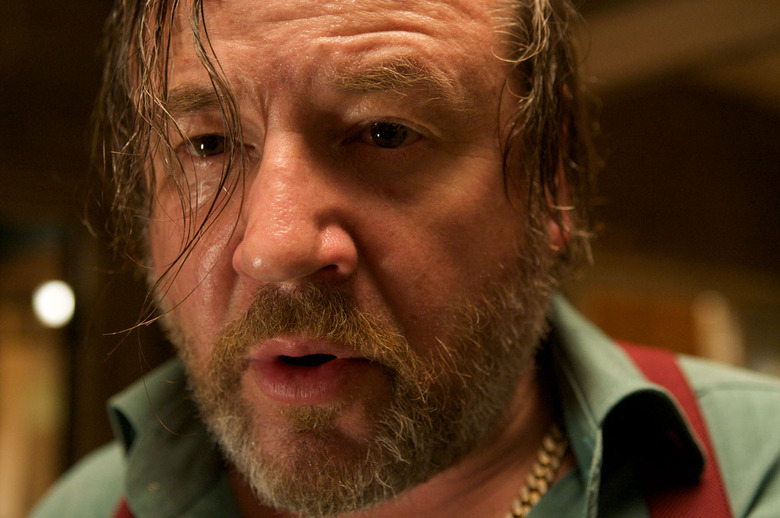 For months there were rumors that Liam Neeson might end up playing the villain in Darren Aronofsky's unique take on the Biblical epic Noah. But one of the last news breaks we had on the film informed us that Neeson was out of the running and Aronofsky would have to look for someone else to oppose the ark-building efforts of Noah (Russell Crowe).
Now Ray Winstone, who was just treated rather shabbily as one of the dwarfs in Snow White and the Huntsman, has been offered the villain role.
Deadline says that Winstone's talks have started, and that he got the nod after Aronofsky considered actors such as Val Kilmer and Liev Schreiber. He reportedly wanted someone with the physical size and strength of character to face off against Crowe.
We still don't know much about the precise nature of Winstone's character, however.
Noah also features Douglas Booth and Logan Lerman as Noah's sons, and Emma Watson is in talks to play "Ila, a young woman who develops a close relationship with Noah's son, Shem (Booth)."
The role of Noah's wife is still uncast, and while we just heard that Julianne Moore might get the nod, Deadline says Aronofsky's Requiem For a Dream star Jennifer Connelly is still in contention. She's been rumored for the part for months, and there have been multiple incorrect reports stating that she was cast.
Noah is scheduled to begin shooting next month in Iceland and New York, with release set for March 28, 2014.
NOAH is a close adaptation of the Biblical story of Noah's Ark. In a world ravaged by human sin, Noah is given a divine mission: to build an Ark to save creation from the coming flood. The screenplay was written by Aronofsky and Ari Handel and revised by Academy Award®-nominated screenwriter John Logan (GLADIATOR, HUGO).