Sequel Bits: 'Anchorman 2', 'Fast & Furious 6', 'Star Trek', 'X-Men: First Class 2', 'Top Gun 2'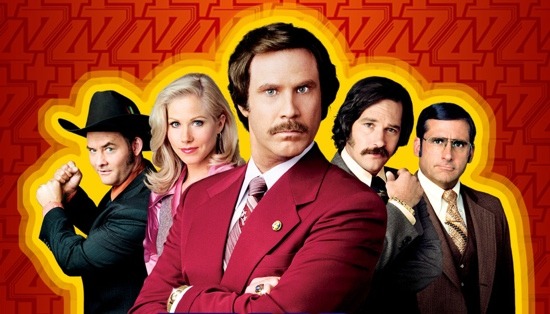 Today's edition of Sequel Bits is particularly chatty, as everyone has a little something to say about their next big project. After the jump:
Adam McKay teases a minor Anchorman 2 detail
Steve Carell talks about reprising his role as Brick
Fast & Furious 6 gets an early bit of marketing
Tom Cruise is still excited to fly jets in Top Gun 2
Lucas Till lobbies for Polaris in X-Men: First Class 2
Simon Pegg promises more of the Enterprise in Star Trek 2
Damon Lindelof discusses the film's "nuanced" villain
Chris Pine thinks Trek 2 is really about the characters
In addition, McKay teased one small idea he had for the story:
All right, I'll give you one thing we actually were kicking around today. I'm not going to tell you what context it's in, I'm not going to tell you how it comes up, but I will tell you: the ghost of Stonewall Jackson.
Wonder what that could possibly mean. Head over to YouTube to listen to the full interview.
Meanwhile, star Steve Carell recently touched upon the Anchorman sequel as well, in a conversation with Coming Soon. "Yeah, that's definitely a switch-up," the actor said when asked about jumping from his more dramatic roles (Crazy, Stupid, Love., Seeking a Friend for the End of the World) back into goofy, oddball Brick.
We shot a teaser for Anchorman 2 a few months ago. And it was odd, 'cause you forget exactly what you might have done the first time, or how the character conducts himself. It's the first time I will have kind of retraced a character. But it's fun, you know, it's fun trading off and trying on different personas. And again, you don't know how it's going to play out, and you just have to have faith that the script is good, and that you're in the hands of a good director and that you'll be able to bring something to it that's grounded and human.
Anchorman 2 is expected to hit theaters next year.
Director Justin Lin hasn't even started shooting Fast and Furious 6 yet, but thanks to this week's Licensing Expo we already have our first bit of promo art for the movie. Don't get too excited, though — it's really just a minor variation on the same old franchise logo along with a helpful reminder that, hey, these movies make a ton of money.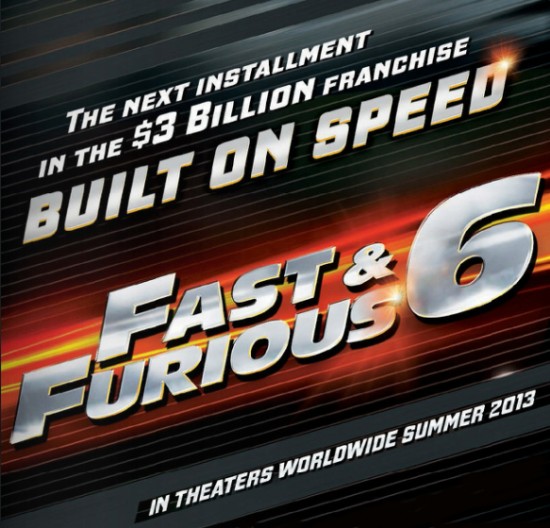 Fast and Furious 6 is scheduled to open May 24th, 2013. [via Collider]
At this point, details on the plotline of X-Men: First Class 2 are still being kept under tight wraps, but that's not stopping some of the folks involved with it from talking about what he'd like to see happen next. Lucas Till, who plays Alex Summers (a.k.a. Havok), mentioned his hopes for the sequel while speaking to IGN.
"I want Polaris in there. I want a sexy green-haired girl to fall in love with," he said. In the comics, Polaris (a.k.a. Lorna Dane) is Alex's long-term love interest and Magneto's daughter. Despite her lineage, however, she generally uses her power of magnetism to fight for the heroes.
Till was also frank about his disappointment with the way Havok's powers were portrayed in the last movie:
I don't know if you saw, but Havok shoots hula hoops out of his body. I remember when (director Matthew Vaughn) told me, and I was like, 'NOOOO!' It's going to ruin it for all the fans of Havok and I tried to make the best of it, but I really hope in the next one that the chest piece—because there's always that circle in the middle so you could tell where his power level was at—but not necessarily used as a device to channel the energy from. I want some gauntlets or something to shoot it out of my hands.
We'll see if Till's wishes come true when X-Men: First Class 2 opens July 18, 2014.
This isn't really much of an update, as we've already known for a while that Tom Cruise, Jerry Bruckheimer, and Tony Scott were developing a Top Gun sequel. Still, fans eager to make sure the project's still on track may be happy to hear Cruise continues to sound very enthusiastic about it. "We're working on it," he told MTV at the Rock of Ages premiere. "We'll see what happens, if I can figure out the script and we get it. It would be fun getting into those jets. I want to fly those jets!"
The cast and crew of Star Trek 2 really have mastered the art of the intriguing but totally vague soundbite, haven't they? Co-writer Damon Lindelof spoke with IGN about how Kirk and the villain would be different this time around:
Kirk is now in the Captain's chair, for the first time, not having shanghaied it. And he has to learn how to manage his responsibilities as a captain with these friendships and relationships that he's forming with these people around him. And I think also we're introducing what is a very cool and nuanced force of antagonism that's a little different from the first movie, which was just a steaming Romulan ball of rage that needs to be stopped at all costs.
Pegg, meanwhile, confirmed a very minor detail about the "relentlessly entertaining" sequel in a separate interview with IGN (via Trek Movie):
You will see more of the Enterprise and you'll see more of everything, different environments and different ships, and it's exciting stuff. And yes, there will be lens flare, and we're very very proud of that.
While Lindelof and Pegg were talking to IGN, Pine was at WGN (via Trek Movie) explaining that the big-budget Star Trek movies are still first and foremost about the characters:
Obviously there is something to be said for special effects. We are in the era of The Avengers movie and people get excited by that stuff and indeed the stuff we have in our film is really cool to watch and to look at, but what I think is more important, and hopefully what people gravitated to in the first one, are good stories about people. And I think we are capitalizing on the interest people have in these characters and the growth and the journey that these people go on amongst all these crazy special effects.
But don't fear, action junkies — Pine also called the film "relentless," noting that "the action is bigger and better and more 3D than the first." The so-called Untitled Star Trek Sequel will be released May 17, 2013.