Rumor: Matt Damon, Morgan Freeman, And Kevin Costner May Join Tom Cruise In 'Magnificent Seven' Remake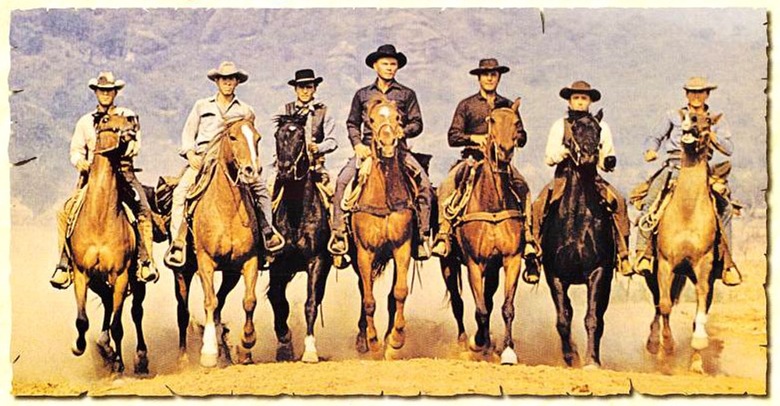 John Sturges' 1960 Western The Magnificent Seven featured an iconic cast that included Yul Brynner, Steve McQueen, Charles Bronson, James Coburn, Robert Vaughn, Brad Dexter, Horst Buchholz, and Eli Wallach, so it's only appropriate that the new remake brewing at MGM seems to be collecting some top-level talent as well.
The project's off to a good start on that front already with Tom Cruise attached to star, and if this new report is to be believed, Cruise is about to get some other high-profile company in the form of Matt Damon, Morgan Freeman, and Kevin Costner. However, considering the notoriously unreliable source, that's a very big fat if. More after the jump.
The publication quotes a source who says, "MGM are throwing big money at the film and wanted some top names to fill the main parts... You can't get much bigger than Cruise and Damon." It's certainly true that a studio looking for well-known stars couldn't do better than this roster, but as the Sun's record is far from spotless when it comes to this kind of news, I'll caution you again not to take it as gospel until we get more outside confirmation.
News of MGM's remake hit last month, when Variety learned that Cruise was the driving force behind this film. While a do-over of such a beloved classic is bound to annoy some fans, it's worth remembering that The Magnificent Seven is itself a remake, of Akira Kurosawa's masterpiece The Seven Samurai.
Granted, Sturges made the story his own by moving the events from feudal Japan to the Wild West, whereas Cruise's version will be a more straightforward adaptation that keeps the frontier setting. But if the project really is attracting such noteworthy actors, it'll be interesting to see what they can do with the material. Though we may be waiting a while — the project doesn't have a director or screenwriter yet, and with Cruise's busy schedule it may be some time before he can even find a window to concentrate on this one.