'Frozen' Casts Idina Menzel As Snow Queen, Hires 'Book Of Mormon' Co-Writer Robert Lopez To Write Original Music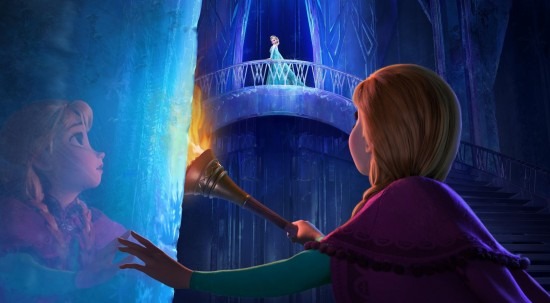 An animated adaptation of the Hans Christian Andersen fairy tale The Snow Queen has been in the development at Disney on and off for about a decade now, but a few encouraging signs suggest we're finally getting pretty close to seeing the story hit the big screen. Well, relatively speaking.
Late last year, the studio announced a November 27, 2013 release date for a revamped CG version of the project, and followed up a few months later by casting Kristen Bell in a lead role. This week brings several more big updates: Idina Menzel has landed a major part opposite Bell, while the music department has added some exciting fresh blood in the form of husband-and-wife duo Robert Lopez (Book of Mormon) and Kristen Anderson-Lopez (Winnie the Pooh). And on top of all that, we also have a new official synopsis. More details after the jump.
In "Frozen," a prophecy traps a kingdom in eternal winter, so Anna (voice of Bell) must team up with Kristoff, a daring mountain man, on the grandest of journeys to find the Snow Queen (voice of Menzel) and put an end to the icy spell. Encountering Everest-like extremes, mystical creatures and magic at every turn, Anna and Kristoff battle the elements in a race to save the kingdom from destruction.
The role of Kristoff has not yet been cast, though I'm sure Disney won't have any trouble attracting solid talent. Menzel is a Tony Award winner best known in the theater world for starring in the original Broadway productions of Rent and Wicked. Onscreen, she was most recently seen playing Shelby Corcoran on Glee. Frozen will actually mark Menzel's second time being turned into an animated character by Disney — she had a supporting role in 2007's mostly live-action Enchanted, during which she appeared briefly in animated form.
Equally promising is the hiring of Lopez and Anderson-Lopez to write original songs for Frozen. Though Lopez is best known for his irreverent (and Tony Award-winning) work on Book of Mormon and Avenue Q, he's had some experience with more family-friendly fare as well; he and his wife teamed up to write several songs for 2011's Winnie the Pooh. Anderson-Lopez, meanwhile, has also written music for a stage version of Finding Nemo.