Chris Hemsworth Attached To Film Based On 'In The Heart Of The Sea,' Telling A Story That Inspired 'Moby Dick'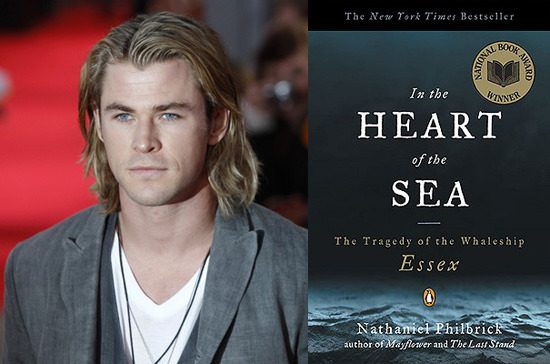 Chris Hemsworth has been part of three major film releases this year: The Avengers, Snow White and the Huntsman, and The Cabin in the Woods, and he plays one of the lead roles in Ron Howard's upcoming racing film Rush. But with a sequel to Thor shooting soon and a sequel to Huntsman likely happening next year, he hasn't signed on to as many new project as some other hot young actors.
But now he's attached to a film that could leverage some of the appeal he brought to Thor, in a slightly different way. In the Heart of the Sea is a book by Nathaniel Philbrick that recounts a two hundred year old whaling story, in which a whaling ship is attacked and destroyed by a sperm whale. The tale features classic heroism, a struggle for survival, and even cannibalism.
Now Hemsworth is attached to play the lead while the film looks for a studio home. The interesting bit is that (speaking of...) the voyage detailed in the book is the one that inspired Herman Melville's novel Moby Dick.
Deadline says the script is written by Charles Leavitt (Blood Diamond) and the project as a whole is one that has been bumming around Hollywood for a decade or more. Various people have been part of developing it, but it has a couple of issues. First, it's a seabound story, and studios are afraid of those because they're expensive but rarely huge earners. Second, it needed an actor who could anchor the movie as the first mate who ends up rescuing some of the crew of the whaling ship when a sperm whale attacks.
Hemsworth could fit the bill on the latter front. The project doesn't have a home at a studio, but DreamWorks is one of a few that seems closer than others.
Here's the account of the book.
The ordeal of the whaleship Essex was an event as mythic in the nineteenth century as the sinking of the Titanic was in the twentieth. In 1819, the Essex left Nantucket for the South Pacific with twenty crew members aboard. In the middle of the South Pacific the ship was rammed and sunk by an angry sperm whale. The crew drifted for more than ninety days in three tiny whaleboats, succumbing to weather, hunger, disease, and ultimately turning to drastic measures in the fight for survival. Nathaniel Philbrick uses little-known documents-including a long-lost account written by the ship's cabin boy-and penetrating details about whaling and the Nantucket community to reveal the chilling events surrounding this epic maritime disaster. An intense and mesmerizing read, In the Heart of the Sea is a monumental work of history forever placing the Essex tragedy in the American historical canon.