'The Queen Of Versailles' Trailer - Hit Sundance Doc Tells A Riches-To-Rags Tale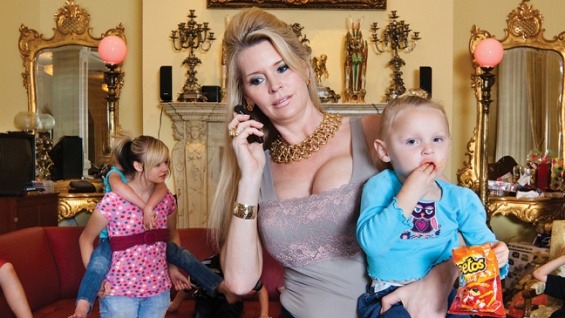 At a time when the economic recession is making it difficult for many families to even put food on the table, it's a challenge to muster up much sympathy for a billionaire couple who find they can no longer afford their 90,000 foot square home — complete with two tennis courts, thirty bathrooms, ten kitchens, an ice-skating rink, and a full-sized baseball field.
But in The Queen of Versailles, documentarian Lauren Greenfield does just that. The Sundance hit follows the decline of Westgate Resorts CEO David Siegel and his ex-beauty queen wife Jackie as the American Dream suddenly turns sour on them. True, their idea of roughing it still looks like most people's idea of living in luxury. But Greenfield's doc seems to find a perfect balance between gawking at the obscene decadence and genuinely feeling for their troubles. Watch the trailer after the jump.
While The Queen of Versailles definitely has a Real Housewives-y element of guilty pleasure to it, it's clear that Greenfield digs a little deeper to portray Jackie and David as real people rather than vilified caricatures of the 1%. The Queen of Versailles received quite a bit of praise at Sundance, earning Greenfield the Best Documentary Directing prize and a nomination for the Grand Jury award. Our own Germain put it on his list of honorable mentions in his recap of the festival.
Magnolia will roll out The Queen of Versailles into theaters on July 20.
With the epic dimensions of a Shakespearean tragedy, The Queen of Versailles follows billionaires Jackie and David's rags-to-riches story to uncover the innate virtues and flaws of the American dream. We open on the triumphant construction of the biggest house in America, a sprawling, 90,000-square-foot mansion inspired by Versailles. Since a booming time-share business built on the real-estate bubble is financing it, the economic crisis brings progress to a halt and seals the fate of its owners. We witness the impact of this turn of fortune over the next two years in a riveting film fraught with delusion, denial, and self-effacing humor.