Bill Murray Says "We'll Try Again" On 'Ghostbusters 3'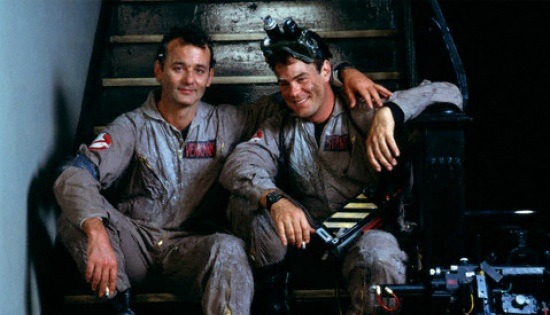 After years of Ghostbusters 3 talk, Dan Aykroyd finally admitted back in February that the project was in "suspended animation," due in a large part to his former co-star Bill Murray's reluctance to get involved. But rumors of a potential sequel refuse to die, and surprisingly, Murray himself hasn't exactly been firm about putting them down.
Earlier this spring, he acknowledged that Ghostbusters 3 was "a possibility," though he wouldn't elaborate further, and a few days ago, he told David Letterman that "well try again" to get a script together. But don't hold your breath — Murray still doesn't seem all that eager to dive in, so the likelihood of cameras rolling in the near future are still very slim. Read his comments after the jump.
Well, that's all that they wanted to know at Cannes, too. You know, you just gotta have a really good script. It's hard. Even the second 'Ghostbusters' wasn't as much fun for me as the first one. It's hard to make a sequel. It's gotta be really funny, and that first one was just so darn funny.
Letterman followed up by asking whether anyone was working on the Ghostbusters 3 script. "Well, I think... We'll try again," Murray said. "I always drag my feet on it."
It's interesting that Murray isn't quashing Ghostbusters 3 speculation altogether, but his responses to the persistent questioning seem to be more along the lines of "never say never" than "hell yes." It's also possible that his vague answers are just Murray trying to avoid upsetting fans or colleagues who are pushing for a third film. Either way, it seems very unlikely that we'll be watching him strap on a proton pack anytime soon.
Watch the clip from Late Night with David Letterman below (Ghostbusters talk starts at 2:00):
[via Screen Crush]