First Official Look: Michel Gondry's 'Mood Indigo'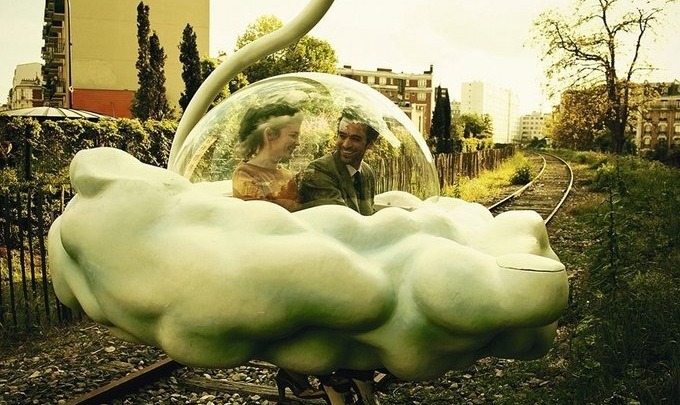 In the past few years, Michel Gondry seems to have fallen away somewhat from the playful dreaminess that characterized his earlier work like Eternal Sunshine of the Spotless Mind, The Science of Sleep, and Be Kind Rewind. Last year's The Green Hornet looked more or less like the studio superhero flick that it was, and his upcoming drama The We and the I seems to have an almost documentary-ish feel to it.
But for his next feature after that, the fantasy drama Mood Indigo, Gondry's returning to his uniquely surreal aesthetic in full force. If you thought those bizarro cars were sight to behold, wait til you get a load of Audrey Tautou and Romain Duris' cloud-bubble ride, or Aïssa Maïga and Gad Elmaleh racing some kind of mini-Popemobile through what appears to be a hotel.
[Le Monde via The Playlist]
It's impossible to understand what the movie is about by browsing the photos alone, but we do know that Mood Indigo is based upon Boris Vian's 1947 novel L'Écume des Jours (English translation: Froth on the Daydream or Foam on the Daze). If you'll allow me to quote myself from an older post about the movie, the book's story is as follows:
Vian's surreal tale revolves around a wealthy young man named Colin, inventor of an "olfactory-musical invention" called the pianocktail. He meets and falls in love with a woman named Chloe, only for her to become ill when she gets a water lily in her lung. The only way for Colin to treat her sickness is by constantly surrounding her with flowers, which eventually drains his funds.
Meanwhile, Colin's married friends Chick and Alise suffer problems of their own when Chick becomes so obsessed with the philosopher Jean-Sol Partre that he begins devoting all of his time, money, and attention to collecting Partre's books.
Sounds like the ideal Gondry project, and judging by these images he brings exactly the touch of bittersweet whimsy that the tale calls for. Alas, Mood Indigo has yet to announce a U.S. release date, but you can be sure we'll be keeping an eye out for more info.