'360' Trailer - 'Constant Gardener' Director Fernando Meirelles And Star Rachel Weisz Reunite For Erotic Drama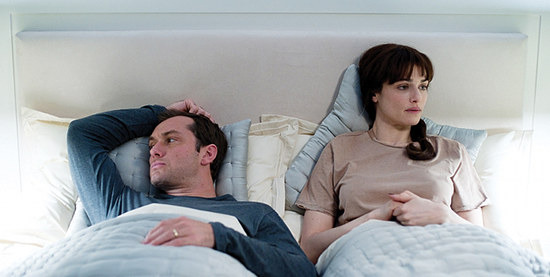 After receiving worldwide acclaim for City of God and The Constant Gardener, director Fernando Meirelles took a stumble with his most recent film, Blindness. Now he's angling to get back on top with 360, an erotic drama inspired by the Arthur Schnitzler's play Reigen. (Another of Schnitzler's works once served as the source material for Stanely Kubrick's Eyes Wide Shut.)
All the pieces for a fantastic movie are here: The star-studded cast includes Rachel Weisz, Anthony Hopkins, Jude Law, and Ben Foster, and the screenplay comes from The Queen scribe Peter Morgan. But it's what Meirelles does with those parts that matters, and the first trailer is inconclusive on that front. Watch it after the jump.
[via First Showing]
Head to Apple.com for HD.
Schnitzler's original play paired off the large cast of characters in a series of interlocking scenes, where one half of one coupling then appears as one half of the next coupling. But it appears Meirelles takes a more free-flowing approach with the interlocking stories, coming up with something closer in structure to Paul Haggis' Crash.
The official synopsis simply describes 360 as "a moving and exciting dramatic thriller that dazzlingly weaves together the stories of an array of people from disparate social backgrounds through their intersecting relationships," but The Independent gets much more specific in their review from TIFF:
Jude Law plays a British businessman who is tempted by a young Slovakian prostitute (Lucia Siposova) in Vienna and ends up blackmailed as a result. Back home in London, his wife (Rachel Weisz) is having a torrid affair with a Brazilian photographer. The photographer's girlfriend (Maria Flor), dismayed at being cheated on, has decided to return to Rio and build a new life. On the plane, she meets an older man (Anthony Hopkins), still grieving over the disappearance of his daughter many years before. During a stopover in a snowbound airport, she also has a very creepy encounter with a young American (Ben Foster), a sex offender who has just been let out of prison.
With a cast like that, I've no doubt we can expect some fine performances. And the cinematography certainly looks beautiful. Aside from that, however, I'm not sure what separates this movie from any other romantic thriller or "intersecting lives" drama. On the other hand, a movie like this is bound to have some subtleties that can't be properly expressed in a 2-minute trailer, so for now I'll just give it the benefit of the doubt.
360 hits VOD on June 29, with a theatrical release planned for August 3.