Sequel Bits: 'Iron Man 3' Set Photos Offer Still More Plot Hints, Plus: 'Prometheus', 'Scary Movie 5', 'Star Trek 2'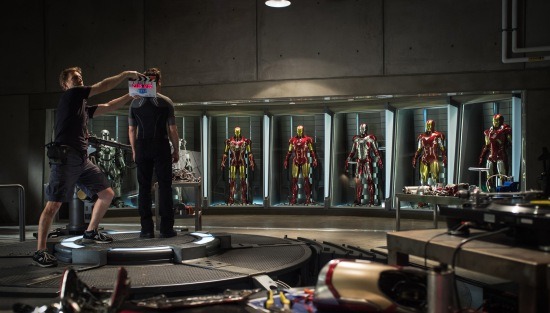 As production gets underway, news is coming in fast and heavy from the Iron Man 3 set. After the jump:
Iron Man 3 to shoot in Miami; see set pics with Robert Downey Jr. and Don Cheadle now
Photos from the North Carolina set confirm A.I.M. will play a role in Iron Man 3
Ridley Scott toned down Prometheus for U.K. rating, won't release director's cut
Erica Ash will play Ashley Tisdale's BFF and rival in Scary Movie 5
Damon Lindelof talks converting Star Trek 2 to 3D, the possibility of doing Star Trek 3
According to Miami Today, Iron Man 3 will head to South Florida in late summer or early fall, and will shoot there for four to six weeks. "We hoped they'd stay longer, but once they surveyed the market, they saw there was not sufficient studio space in South Florida. They will primarily do location work here," said Graham Winick, who manages film and event production for the City of Miami Beach.
But that's further on down the line — right now, cameras are rolling in North Carolina, and Comic Book Movie has picked up some fresh news from the set. They've got photos of stars Don Cheadle and Robert Downey, Jr., director Shane Black, Tony Stark's Audi, and a Miami Police motorcycle.
Most intriguingly, there's also an A.I.M. (Advanced Idea Mechanics) office sign, which confirms that the terrorist organization responsible for creating MODOK will be referenced in the film.
An anonymous poster on On Location Vacations writes that the building for Epic Games, the NC-based video game developer behind minor efforts such as Gears of War and Unreal Engine technology, will serve as the "'face' of A.I.M."  The SAS Institute campus will portray Stark Industries:
The cast (mostly extras) were seen sporting "Stark Industries" name badges on set and between scene. It's [basically] a Christmas party scene at Stark Industries. There was suppose to be a car/race scene filmed along the Cary parkway but I heard that It was cancelled/rescheduled because of rain.
Head to CBM and Reel Movie Nation for more pics and more tidbits from the set.
Ridley Scott's been a vocal critic of the American MPAA in the past, but it seems even he's willing to tone things down a bit for the good of Prometheus' financial prospects. For the movie's U.K. release, Scott says he made some cuts to get it a 15 certificate (no one younger than 15 admitted) versus an 18 certificate (no one younger than 18 admitted) from the British Board of Film Classification.
"It has to be be about the movie, so I've made concessions. There's a moment where you don't want to harm the movie," he told the BBC (via The Playlist). He pointed out that opening his movie up to a wider, younger audience "could be the difference of $80m or more."
In a separate interview with JoBlo, Scott denied any plans to release an unrated, extended, or director's cut version of his movie on home video. "No, I think this is a good length," he said. But don't worry, sci-fi fans — based on what we've heard so far, Prometheus is plenty disturbing regardless of its MPAA or BBFC rating. Prometheus, which is rated R in the U.S., opens this Friday, June 8.
Though we heard last summer that Scary Movie 5 was hoping to get some of its previous stars back on board, the first major piece of casting had to do with franchise newcomer Ashley Tisdale. Now the lead actress is getting some company in the form of another Scary Movie newbie, as Erica Ash has signed on to play Tisdale's friend and rival.
Ash is best known for her work on the sketch comedy series MADtv and The Big Gay Sketch Show, but over the years has also appeared on Broadway and lent her voice to video games. She's currently filming American Judy, an ABC sitcom produced by and starring Judy Greer. Directed by Malcolm Lee and inspired by Darren Aronofsky's Black Swan, Scary Movie 5 is currently slotted for a January 11, 2013 opening. [Variety]
Whatever its flaws, Men in Black 3 definitely featured some imaginative alien creations — including a gigantic, monstrous fish which Agent J (Will Smith) explains as "what happens" when you flush a goldfish down the toilet. Conceptual artist Bobby Chiu, who worked with VFX supervisor Ken Ralston to design the creature, has posted some neat concept art for the alien. Check it out:
Aw, from some of those angles it's actually so ugly it's almost cute. Men in Black 3 is in theaters now. [Imaginism Studios via CBM]
TrekMovie.com has posted the second half of their in-depth interview with Star Trek 2 writer Damon Lindelof. One of the things he talks about is the new film's post-converted 3D, which he promises will give audiences "their money's worth":
We wanted to tell the story that we wanted to tell and we have already talked about the idea that all of us were a little bit cynical about doing the movie in 3D and then they set up a test at Bad Robot where they took footage from the first movie – the sequence when the Enterprise drops out of warp and they come upon all the federation vessels destroyed by the Narada and they are doing evasive maneuvers – and we just looked at each other after and said "that was kind of awesome." We are now – I wouldn't say converts – but I don't think this is going to hurt the movie. If people want to see it in 3D, they will get their money's worth.
And in terms of actual production, [director] JJ [Abrams] shot the movie exactly the way he wanted to shoot it. And when you are doing this process, as opposed to a standard conversion, after every single set up – not just every scene but every angle – we had to do a 3D pass where you clear the set of the actors and the camera has to do the same moves so the guys doing the conversion can map accordingly and that will provide a much better 3D experience for the audience.
Lindelof also touches upon the possibility of returning for the third film. Though he's understandably hesitant to make any unambiguous statements, he admits that "[i]t would be very hard to not be involved in Trek moving forward":
We certainly don't feel that a third movie is a foregone conclusion. Hopefully the second movie turns out well and we are really happy about everything so far. [...] It does feel that three movies is the right responsibility for us to have the baton for before we then pass it off to the people who are take Trek to wherever they want to take it. So if this movie turns out well, would I be writing on the third movie? Who knows? But, we did talk a lot in the writing of this movie and during production about what the next movie might be and started getting excited about some of the ideas, so it would be hard to say no to that. This is a once in a lifetime experience.
Read the rest of the interview at TrekMovie. The Star Trek sequel is set to open May 17, 2013.