'Breaking Bad' Art: 'The Rise And Fall Of Jesse Pinkman' By Rhys Cooper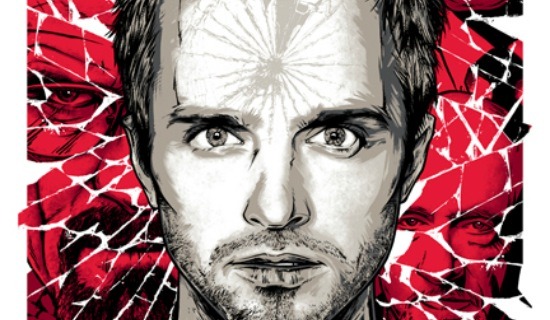 As much as Walter White is the heart and soul of AMC's Breaking Bad, his partner Jesse Pinkman is the moral compass. He may be a drug dealer turned junkie who now is a master drug manufacturer but Pinkman's good hearted nature and his clashes with Walt's sensibilities are what drive the show forward.
The character, so expertly played by Aaron Paul, is the subject of the latest piece of art in the Breaking Bad Art Project. The Rise and Fall of Jesse Pinkman by Rhys Cooper is incredibly cool. Check it out below.
The print was revealed at the RSVP Gallery in Chicago this morning where fans got a cool little Heisnberg necklace and the URL http://becauseyourbossisgonnaneedme.com/. That's where this poster, a 12 x 36 in screen print, will go on sale very soon.
Also, NOTE. There's a huge season four spoiler on this poster if you really look for it. Just be warned.

As always, keep and eye on BreakingGifs.com and @BreakingGifs for announcements on this series.BreakingGifs.com is viral campaign to promote the upcoming final season of Breaking Bad on AMC. Curated and run by Tyson Givens and Gallery 1988, each week the site will link to a new piece of Breaking Bad themed art by well-known and up and coming artists, all leading up to the show's premiere July 15.