Jamie Foxx Running For President (Of Roland Emmerich's 'White House Down') [UPDATED]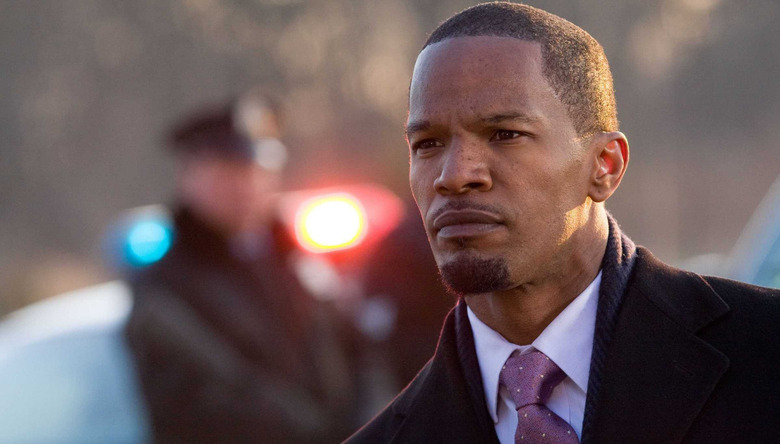 Jamie Foxx will next be seen playing a freed slave turned bounty hunter for Quentin Tarantino's Django Unchained, but his  role after that will have him climbing all the way to the tippy-top of American society.
The star has just entered talks to play the President of the United States in the thriller White House Down, one of two competing projects being described as "Die Hard in the White House." This version of the premise comes from director Roland Emmerich and writer James Vanderbilt (Zodiac), has Channing Tatum attached to star, and all in all seems to be farther along. More details after the jump.
UPDATE: Shortly after we posted this story, news broke that Maggie Gyllenhaal had also boarded the cast, in the female lead role of a "patriotic" Secret Service agent.
Sony acquired Vanderbilt's spec script in March for around $3 million, and has wasted no time getting the project together. The studio is planning a summer start for White House Down, with a November 1, 2013 release date already on the calendar. Given that Django Unchained is still shooting, it doesn't sound like Foxx will get much of a break before jumping right into White House Down.
While Sony would no doubt be eager to get such a splashy-sounding project rolling anyway, it's in an extra hurry because of the similarly themed project brewing at Millennium Entertainment. Antoine Fuqua was in talks to direct that one last we checked, with Gerard Butler attached to play a former Secret Service agent who's called back into duty when terrorists take over the White House. It was also said to be aiming for a summer start, but at this point it seems possible that it'll just wind up getting scrapped.