John Lasseter Chats About Future Pixar Projects; 'Toy Story' TV Specials Coming 2013-2014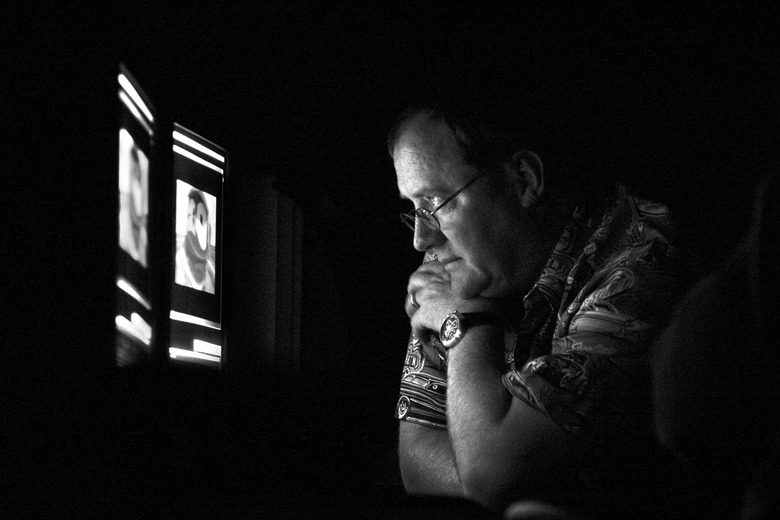 For Disney and Pixar fans, if there's one person they'd love to talk to about future projects, it's John Lasseter. The Chief Creative Officer has his finger in everything at both companies, offering his helpful criticism and suggestions to even the smallest projects. Of course, he's now out stumping for Brave, Pixar's latest film, but as is usually the case, reporters can't resist asking about other upcoming projects.
We currently know of four Pixar films in development: Monsters University, The Good Dinosaur and then untitled films about the human mind and Día de los Muertos. In a new interview, Lasseter himself offered detailed pitches on The Good Dinosaur and the human mind film, directed by Bob Peterson and Pete Docter, respectively.
In other Pixar news, two new Toy Story TV specials will reportedly air in 2013 and 2014 and three more Toy Story Toons are on the way. Read about this all below.
Thanks to Bleeding Cool (via Movies.com) for Lasseter's quotes. Toy Story stuff after.
Here's what he had to say about Bob Peterson's The Good Dinosaur, scheduled for release May 30, 2014:
What if the meteor that killed off the dinosaurs missed Earth and dinosaurs kept living? It's really a great story because they are very funny dinosaurs. They are kind of cartoony but they are dinosaurs, they are not walking around with clothes on or anything like that, they still are kind of dinosaurs. We focused on mostly the plant-eaters, not the carnivores... Their society becomes more of an agrarian society, meaning farmers. They become farmers.
It's a very funny story about a certain way of life that a young dinosaur has trouble fitting into and he ends up going on this quest. He kind of messes up and he has to put everything right by going on this quest and on that quest he meets this our character that is an outcast from his society too and so the two of them form this bond and it becomes this unique kind of story... kind of hard to describe. It's a very special, very emotional story but it's so quirky and nutty. That's really the hallmark of Bob Peterson's and Peter Sohn's talent. Bob Peterson is truly one of the funniest people I've met and it's coming through with this story. Pixar does dinosaurs, but like anything we touch... it's unlike any other dinosaur picture you've seen 'cause it doesn't fit in your typical [idea of] what you think dinosaurs are. It's absolutely beautiful too.
And here's Lasseter talking about Docter's human mind film, currently scheduled for release June 19. 2015:
Pete Docter... is working on the next one. We don't have the title for it yet, but it takes place in the mind. Pete has this way of constantly trying to figure out something that we're all familiar with in some way... he's constantly looking for these kinds of things. You look at people oftentimes and they do something to make you go "What are they thinking?" or it's like how a song gets stuck in your head and you just can't get it out. Little quirky thing alike this that we all do. Certain emotions just seem to take us over, anger or happiness, where you start giggling and laughing and you can't stop. He thought "I want to take a look at that, explain that." His idea is that the emotions of this little girl are the characters and it takes place in the head of this little girl, and shows how they control things that go on. It's very, very clever and it's truly unlike anything you've ever seen, yet it explains things you've seen.
A lot of info that we already knew, but it's great to see Lasseter's passion for these projects.
Those quotes came from a few days ago so there wasn't time for the CCO to comment on this: BigScreenAnimation.com exclusively reports two new, 22 minute Toy Story specials will air in October 2013 and Spring 2014 either on ABC or Disney Channel. No word if these are what Tom Hanks was talking about when teasing a Toy Story 4, but any time we get to see these characters it's exciting. Plus, it's as if the franchise is finally going back to its roots. It originally began as a TV adaptation of the short Tin Toy but then got developed into a feature.
The same article also says three new Toy Story Toons are being developed, likely to be placed in front of the movies Lasseter discusses above.
Good news all around for Pixar fans, yes? Now let's hope we get good news on the big screen June 22.