'Shot Lister' iPhone/iPad App Could Revolutionize Film Set Planning And Organization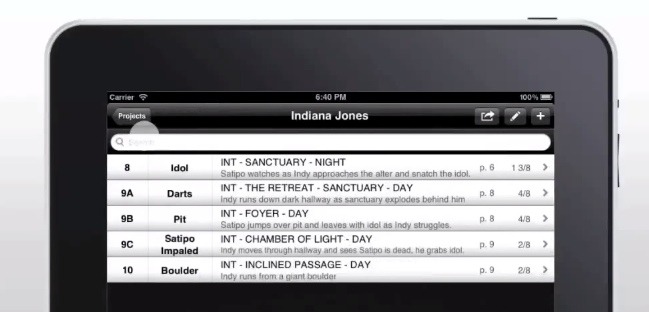 You might remember 28-year old Vancouver filmmaker Zach Lipovsky as the visual effects maven on Steven Spielberg's 2007 Fox reality TV series On The Lot. Lipovsky just got finished filming a television movie for Syfy called Tasmanian Devils starring Danica McKellar (yes, Winnie Cooper from The Wonder Years) and just produced (with Chris Ferguson) the found footage action thriller Ends of the Earth which sold for big money to CBS Films. He's working with Blindness/Hobo with a Shotgun producer Niv Fichman to make his theatrical feature debut Dogs of War, a heavily-stylized action fantasy retelling (think 300) of the War of 1812 about "Canadian fighters clearing a path for the British army to invade Washington and burn down the White House."
If all of that wasn't enough, he's inventing new applications to revolutionize the process of working on a film set. When does this guy find the time to rest? We don't really cover the backend process of filmmaking as much as I would like to, but having directed a feature film myself years and years ago, I see the huge value in a program like Shot Lister.
Since its been a while since I've worked on set, I decided to contact /Film correspondent-at-large Reza Lackey to explain why this program is important. Reza is an Assistant Director in Los Angeles who worked on the upcoming Steve Carell comedy Seeking a Friend for the End of the World and Dan Trachtenberg's popular short film Portal: No Escape. So let me turn it over to Reza:
Shot Lister is the new Cargo Pants by Reza Lackey
One of the hardest aspects of making a film is scheduling it. For years, the go to application for doing this has been Movie Magic's Scheduler (formally EP Scheduling). It's an expensive application that is buggy and not at all intuitive. I've been waiting for the day we can do away with this method of scheduling and for me, that day has arrived.
First, a little bit about scheduling. After scheduling a shoot, a one-liner is generated which is an easy to read document that lists the order that scenes will be shot in and on what days. It also provides other bits of information such as page counts and if the scene is day or night, interior or exterior. Here is an example of a one-liner from the first pass at the Portal: No Escape schedule: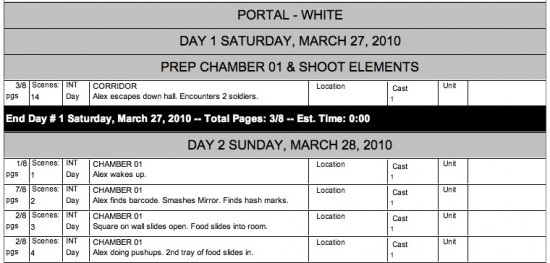 Yesterday I discovered an iOS app called Shot Lister. It changes everything. Traditionally, AD's carry this document as a hard copy or as a PDF on their device with the inability to change or modify it. If changes need to be made, a laptop with the EP software would be needed – a pain in the ass when there are other pressing things to be dealt with on set (and there always are).
Shot Lister allows you to create a one-liner that has all the necessary information plus the ability to manage and adjust the schedule on the fly right from your iOS device. After inputting the shoot information into the app (either on the device or by importing from free template), you can then schedule out each day.
Not only do you schedule the order in which scenes are shot, but also the specific shots in each scene. You can then add the estimated time it would take for each shot and Shot LIster will let you know if you have enough time for what is scheduled.
As the shoot day progresses, you can check off the shots and scenes completed and the App will tell you if you're ahead of or behind schedule. This is remarkably important as it allows you to make necessary adjustments as needed to make the day. This feature alone is worth more than the cost of the entire app.
One thing I would love to see added to this app is the ability for other crew members to see a read-only version of a schedule and be noti?ed of any changes that are made. Further, if crew could indicate that they have seen the change through the app, which would then be passed back to the AD's, the AD department would then know who has or hasn't been informed of schedule changes.
I am so happy that there is finally a great way to schedule and manage shoots. Before now, it has been a very cumbersome experience. I can finally retire my cargo pants as I won't need as many pockets to stuff paper work into. There is no doubt that Shot Lister will help ?lm crews of all sizes and experience levels make the most of their days on set. Assistant Directing a ?lm is a game of constant course correction, looking for the north star on an overcast night. Shot Lister is like finally having a compass.
Official Description:
Shot lister is the only truly profesional shot listing app in the world. Filmmakers can take that crumbled piece of paper out of their back pockets and touch the digital future of shot listing. Now, instead of scribbling over printed out spreadsheets from a week ago, filmmakers can get back on track with a flick of a finger.
Find out more on the official website Shotlister.com, or download the app now on iTunes.