Joseph Kosinski Keeps The Party Going, Taps M83 To Score 'Oblivion'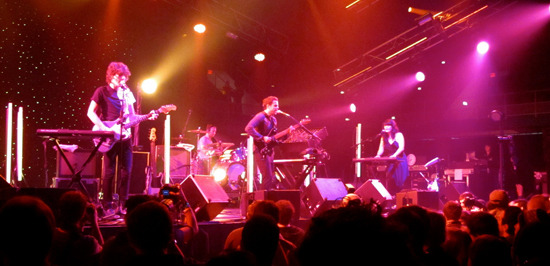 When Tron: Legacy director Joseph Kosinski chose French dance/electronica duo Daft Punk to score the Tron sequel, it seemed like a stroke of genius. The duo's tunes and media image owe more than a small debt to Tron, and their music turned out to be one of the highlights of the final film.
Kosinksi is working in a similar mode for his follow-up Oblivion, which stars Tom Cruise as a repairman who gets into some weird stuff after he discovers a crashed vehicle containing a live woman on the scorched surface of a future Earth. The director has tapped another French electronica act, M83, to score the film. That makes another great choice for Kosinski, as M83's songs have often sounded like they aspired to soundtrack status.
The Playlist broke the news of Kosinski's choice, and M83 mainman Anthony Gonzalez tells the site,
I've wanted to do soundtracks for so long, and starting with such an ambitious project, especially in the sci-fi category, means a lot to me. I'm not afraid to do my first soundtrack on a big Hollywood movie, with a big budget and a lot of pressure...I like challenges and it excites me more than frightens me. I can't wait to hear my music played by amazing musicians, and an orchestra and brass and maybe choirs. It's a chance to create something big and I'm ready for it.
Gonzalez says of the specific idea for the score,
My vision is really to have a combination of very electronic moments, very M83, and sometimes merge into something more soundtrack-y, but my kind of soundtracks.
And Joseph Kosinski adds,
I was listening to his music back in 2005 when I first wrote this story, so he was part of this from the very beginning in my mind, kind of creatively... The story has a small cast of characters, it was designed as kind of a character-driven story, but at the same time it takes place in a vast world. So I need a score that is both emotional, but at the same time can feel big and have a lot of space in it. And his music has that. It's emotional, it's triumphant, it just has a spirit and a life to it.
Here are 'Midnight City' and 'Reunion,' from the band's current release Hurry Up, We're Dreaming. After those are 'Run Into Flowers' and 'Unrecorded,' a couple of particularly soundtrack-worthy tracks from the breakthrough record Dead Cities, Red Seas & Lost Ghosts.
Oblivion is set for release on April 26, 2013.
Tom Cruise stars in Oblivion, an original and groundbreaking cinematic event from the director of TRON: Legacy and the producer of Rise of the Planet of the Apes. On a spectacular future Earth that has evolved beyond recognition, one man's confrontation with the past will lead him on a journey of redemption and discovery as he battles to save mankind.
Jack Harper (Cruise) is one of the last few drone repairmen stationed on Earth. Part of a massive operation to extract vital resources after decades of war with a terrifying threat known as the Scavs, Jack's mission is nearly complete.  Living and patrolling the breathtaking skies from thousands of feet above, his soaring existence is brought crashing down when he rescues a beautiful stranger from a downed spacecraft. Her arrival triggers a chain of events that forces him to question everything he knows and puts the fate of humanity in his hands.
Oblivion will be shot in stunning digital 4K resolution on location across the United States and Iceland.
[Image of M83 performing at Moogfest 2011 via Flickr user John Grabowski]