'Wreck-It Ralph' Images Feature Cameos By Q-Bert And Street Fighter Characters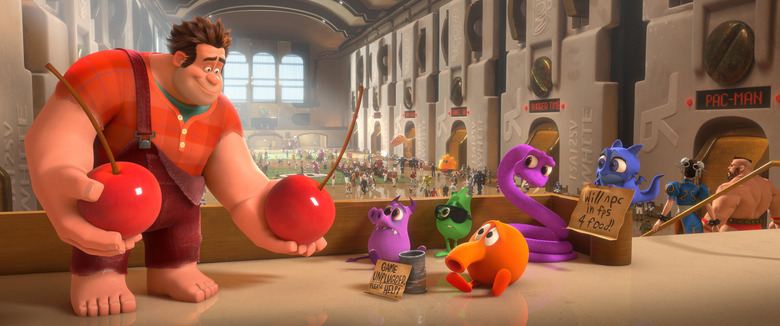 Most video game movies are pretty terrible adaptations of game properties. Maybe the way to go is to just make movies informed by games, as Edgar Wright did with Scott Pilgrim.
Disney is taking that approach with Wreck-It Ralph, a film in which the main character is a video game bad guy (think of a human Donkey Kong) who years to break out of the role he's locked into.
Four new images have hit from the film, and they show that, like Pixar's Toy Story, the movie features some recognizable real-world gaming characters like the casts of Q-Bert and Street Fighter.
The header image is the key one, as we see Q-Bert characters, doorways for Pac-Man, Burger Time and other games, and Chun-Li and Zhangief from Street Fighter, over to the right. There are probably some other recognizable characters buried in the background, too, so click that one to see the largest version and scan through it.
John C. Reilly voices the main character, and the super-packed surge protector you see in another image plays a role in helping he and other game characters move between their respective digital homes. (It's basically the real-world version of the plaza hub seen above.) The tough lady seen in another shot is Jane Lynch's character Sgt. Calhoun in a game called Hero's Duty, which Ralph sneaks into in the hopes of proving his own good-guy nature.
And then Bleeding Cool found this footage of a real-life arcade game that promotes the film, and replicates Ralph's original title.
Ralph (voice of John C. Reilly), tired of being overshadowed by Fix-It Felix, Jr. (voice of Jack McBrayer), the "good guy" star of their game, sets off on a quest to prove he's got what it takes to be a hero. His arcade-game-hopping journey kicks off at Game Central Station, an industrial power strip that serves as the central hub connecting every game in the arcade. In theaters Nov. 2, 2012, 'Wreck-It Ralph' also features the voices of Jane Lynch and Sarah Silverman.