Jerry O'Connell And Mariana Klaveno Cast In Bryan Fuller's 'Munsters' Reboot 'Mockingbird Lane'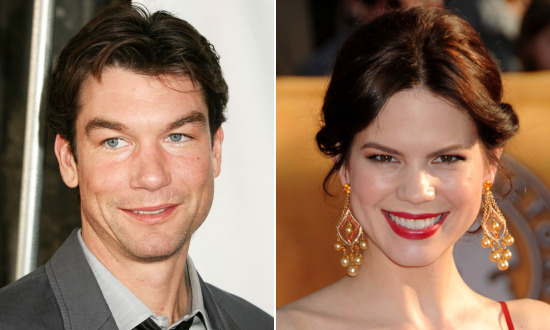 With construction already underway on its sets, NBC's Munsters reboot Mockingbird Lane is moving a few last pieces into place for its main cast. Jerry O'Connell and Mariana Klaveno have just been cast as Herman and Lily Munster in the Bryan Fuller-created show, joining previously cast stars Eddie Izzard (Grandpa), Charity Wakefield (Marilyn), and Mason Cook (Eddie).
There is one big question mark hanging over the news, however — Klaveno's involvement is contingent on her ability to work out a deal with ABC Studios, who has her contracted for its upcoming Marc Cherry soap Devious Maids. More details after the jump.
Deadline doesn't sound too confident about Klaveno's chances of persuading ABC to let her out of her contract, saying "it is probably going to take a miracle, or call from NBC topper Bob Greenblatt to Devious Maids creator Marc Cherry to get her released." If Klaveno fails to get ABC on board with her plan, NBC will have to restart its search for Lily Munster.
Happily, O'Connell's position seems more secure, with Deadline reporting that he's "set" for the role. O'Connell's Herman is described as a lanky but attractive Frankenstein's monster-type figure. An all-around family man, he works at a funeral home. Herman is married to Klaveno's Lily, a vampire, and the two are the parents of 10-year-old budding werewolf Eddie.
It looks like the basic outline of Mockingbird Lane resembles that of its source material, but the tone will be vastly different. Fuller's series reimagines the '60s monster family sitcom as an hourlong drama, with a strong visual sense along the lines of Fuller's Pushing Daisies and a dark sense of humor.
Assuming Klaveno can maneuver her way out of Devious Maids and into Mockingbird Lane, it'll be her second time portraying a bloodsucker on TV, after playing Lorena Krasiski on HBO's True Blood. As far as I'm aware, it'll be O'Connell's first time playing a Frankenstein's monster.