Darren Aronofsky's 'Noah' Adds Logan Lerman And Douglas Booth; Liam Neeson Not Joining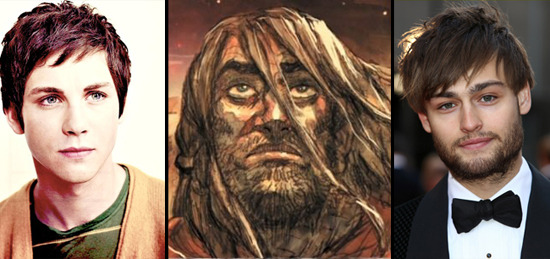 As Darren Aronofsky moves toward a shoot start for his new film Noah, the film's cast is coming together. The film already has Russell Crowe set to play the title character, a version of the Biblical figure from the story of the ark and the flood that you may remember.
We'd heard at one point that Liam Neeson was being eyed to play another significant role, but that is reportedly not happening. We do have news on Douglas Booth and Logan Lerman signing on, however. That's not quite a 'no Neeson' consolation prize, but in Aronofsky we'll trust.
Deadline says Neeson is out of the running for this film, so Aronofsky will find someone else to play "Noah's nemesis." But Booth and Lerman will play Noah's sons Shem and Ham.
The site also talks about the casting of Jennifer Connelly, which is long-rumored and even thought confirmed for a moment thanks to a poor editing choice by THR in an interview with Paramount's president. But that role, Noah's wife, is still not cast. Connelly could take it, but that isn't set yet.
The official description from the press release announcing the project is:
NOAH is a close adaptation of the Biblical story of Noah's Ark. In a world ravaged by human sin, Noah is given a divine mission: to build an Ark to save creation from the coming flood. The screenplay was written by Aronofsky and Ari Handel and revised by Academy Award®-nominated screenwriter John Logan (GLADIATOR, HUGO).