'High School Musical' Star Ashley Tisdale To Star In 'Scary Movie 5'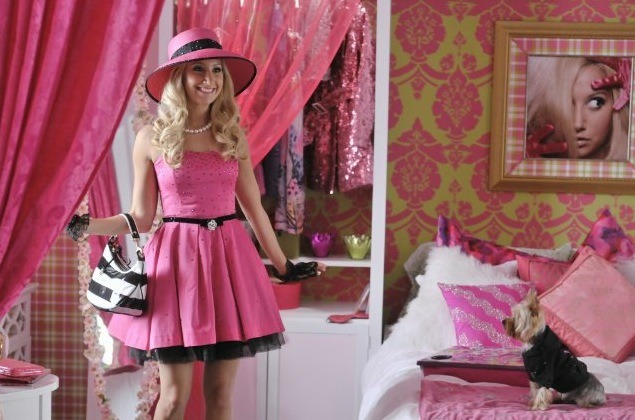 After four Scary Movies, it seems like Anna Faris has been replaced by another funny blonde actress. Ashley Tisdale, best known for Disney's High School Musical series, has been tapped to star in the latest edition of the franchise, Scary Movie 5, which will be directed Malcolm Lee and co-written and produced by David Zucker. Zucker wrote and directed the last two installments, but is splitting duties with Lee this time around.
The film, which starts shooting this summer, will reportedly spoof films such as Black Swan, Paranormal Activity, Rise of the Planet of the Apes and 127 Hours. Read more after the jump.
Though Tisdale is a relative unknown to pretty much anyone outside of the Disney crowd, she's been a mainstay with that audience for years. Besides her starring role as the villain in the three High School Musical movies, that character got her own spinoff movie, she's a voice on Phineas and Ferb, appeared on The Suite Life and was recently in the family movie Aliens in the Attic.
Earlier this year, she also was part of a failed TV pilot that Louis CK was a part of, so that's a pretty enormous stamp of approval, even though the show didn't get picked up.
Anna Faris has been saying for several months that she's likely not coming back for the film and while the press release isn't explicit (it calls Tisdale "one of the leads") it would seem likely she'll pretty much play the same role as heroine.
I'm actually a fan of Tisdale's. She very talented and in need of a good, more mainstream breakout role, but I'm not sure Scary Movie 5 is it. When the series was run by the Wayans, it was funny and edgy. Since Zucker took over, it has been poisoned by apathy. As a fan of the first film, I found the third one to be so unbearably, insultingly bad, I never even watched four. Maybe Lee, whose film Undercover Brother wasn't too shabby, will help Zucker relive some of his glory.
Scary Movie 5 is tentatively scheduled for a January 11, 2013 release though that is likely to change.
Do you think Tisdale is a good fit for Scary Movie 5? Are you looking forward to the film?