TV Bits: Damon Lindelof, The Office, SNL, American Horror Story, Breaking Bad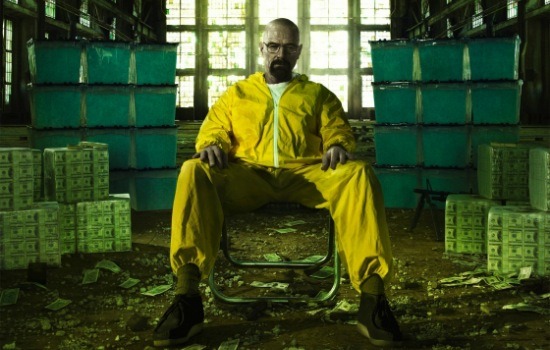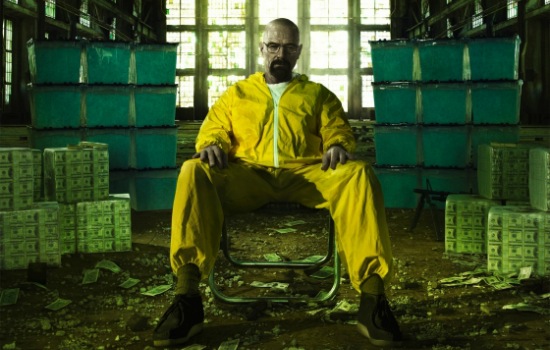 A fan favorite creator returns to TV, Saturday Night Live gives birth to another movie star, own a piece of television history and get ready for the finale of TV's best show all in today's TV Bits. After the jump read about:
Damon Lindelof will return to television after signing a three-year deal to develop a new show.
Catherine Tate will be returning to The Office as a regular next season.
Andy Samberg will, indeed, be leaving Saturday Night Live as rumored.
As seen on Hollywood Treasure, the season one American Horror Story house is now on the market.
The third season of the acclaimed Starz show, Spartacus, will be its last.
Breaking Bad's fifth and final season gets a brand new poster and plot description.
Fans of Lost rejoice. Damon Lindelof has officially decided he's coming back to TV. Deadline reports the co-creator of that show and screenwriter of Star Trek, Star Trek 2 and Prometheus, has signed a three-year development deal with Warner Bros. TV to basically ensure he develops a new show. Even he isn't quite sure what that'll be but after his films, he's likely to avoid sci-fi, and also avoid the kind of deep, mythological show Lost was:
I probably won't be the guy who creates the next Mad Men orBreaking Bad, though I love both of these shows. What I love about television is character-based storytelling, and I want to continue to explore fantastical way of doing it where characters live in a world that is a little skewed.
All Lindelof has left filmwise is Brad Bird's 1952 and, if the movie gets greenlit, he'll producer that while developing his new show. There's more quotes from the writer at the Deadline article.
Admittedly, I totally fell off of The Office this year. The loss of Steve Carell was just too much to bear, even though Ed Helms' Andy was a worthy successor. Still, it seems as the season wore on Andy's job as head of the branch was challenged by a character played by English comedienne Catherine Tate who first made an appearance as a possible Carell replacement last season. TV Line reports her character will be back for season 9 as a regular, which should answer some questions left open at the end of this season.
Though the season finale of this year's Saturday Night Live was dominated by the departure of Kristen Wiig, Andy Samberg was rumored to be leaving too. That has now been confirmed in an interview with the New York Times:
It's an incredibly emotional and strange moment in my life. Obviously it's not a huge shock, but I did officially decide not to come back.
His big send off with the sequel to one of his biggest skits, Lazy Sunday 2, which you can watch here. He'll continue to appear in movies, such as next week's That's My Boy, Celeste and Jesse Forever and Hotel Transylvania and didn't deny he'd love to appear on the show occasionally as a guest star.
If you're watching SyFy's awesome Hollywood Treasure, this is probably a bit of a future spoiler but the house from the first season of American Horror Story is now up on the market according to Franklin Ave. The going price is $12 million. The popular FX show shot almost entirely inside the one location so it's very much as seen on the show. Read more at that blog or check out replays of the May 29 episode of Hollywood Treasure, which should be available in full later this week at this link.
Starz has announced, via Vulture, that the third season of their Spartacus show, Spartacus: War of the Damned, will be its last. However, it doesn't start airing until January so you have almost a year before tears will be shed.
Last and certainly not least, Vulture has revealed the official poster of the final season of Breaking Bad. Visually, it's not a spoiler, however, if you are in the middle of watching the show and not caught up, then begin to think about the tagline, it's a biggie. So process with caution.
3.
2.
1.
Here's the Breaking Bad poster.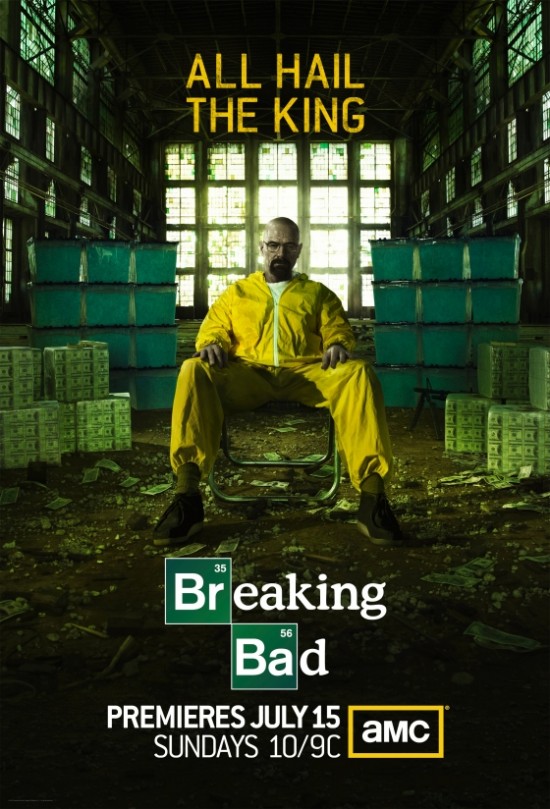 Hail to the king, baby.
A new logline for the show over at TV Line gives a bit more context. Again, spoilers if you aren't caught up, but it's all pretty logical being as where we left off:
No longer under the thumb of a mastermind criminal, Walt now assumes the role of one himself, as he and Jesse (Aaron Paul) look to build their own empire. Meanwhile, Skyler (Anna Gunn) struggles with the reality of her husband's new role and Hank (Dean Norris) works to wrap up his investigation of Gus' business.
Are you excited that Lindelof is returning to TV? Disappointed to see Samberg leave? Is Tate returning to The Office a positive? Comment on all these things below.