Fox To Preview Full Scenes From 'Life Of Pi' Ahead Of 'Prometheus', 'Abraham Lincoln: Vampire Hunter', 'Ice Age: Continental Drift'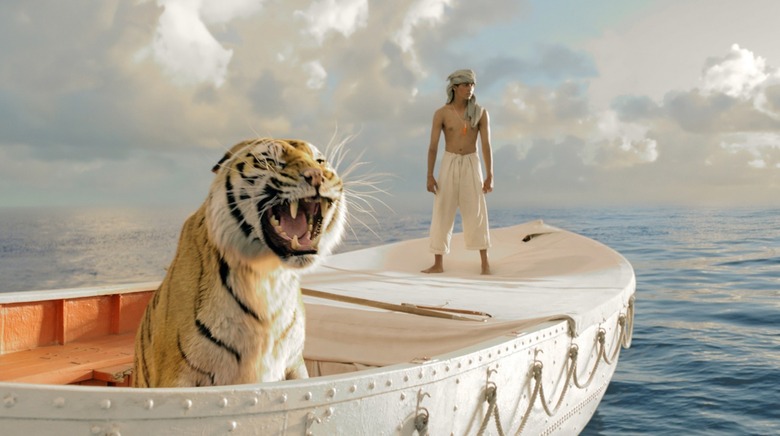 It's not like anyone needs another excuse to hit up Ridley Scott's Prometheus this weekend, but in case you weren't totally sold on Fox's other big 3D summer releases, they're sweetening the deal with a glimpse of one of this fall's most intriguing films. The studio plans to unveil uncut clips from Ang Lee's literary adaptation Life of Pi before Prometheus, Abraham Lincoln: Vampire Hunter, and Ice Age: Continental Drift, the better to show off Lee's apparently masterful work with 3D. More details after the jump.
For the rest of us who didn't attend CinemaCon, however, all we've seen so far is the single image that was released back in April — which was pretty enough, but not terribly exciting in and of itself. The new clips, then, will mark our first peek at actual footage from the film. According to THR, the scenes that'll be previewed this summer include one of a cargo ship filled with zoo animals as it sinks into the ocean, which was also shown at CinemaCon.
Fox's choice to release full-length scenes rather than a trailer is an interesting one, but Fox Filmed Entertainment co-chairman Tom Rothman says the movie merits the unusual marketing strategy. "This film is special and different, and so we didn't want to give people the same-old, same-old," he said. While the two-minute trailer remains the conventional way to sell a movie, studios have shown a willingness to mix things up for films they think are worth it. A few years ago, Fox showed a 15-minute for Avatar months before that film's release, and more recently, Warner Bros. dropped a 6-minute The Dark Knight Rises prologue in front of Mission: Impossible – Ghost Protocol.
Of course, even if you miss this summer's Life of Pi 3D clips, you'll get your chance to see footage sooner or later — Fox plans to release a traditional trailer at some point. If you want the early, uncut glimpse, however, this weekend's release of Prometheus will be your first opportunity. Other clips will follow on June 22, in front of Abraham Lincoln: Vampire Hunter, and July 13, attached to Ice Age: Continental Drift. Life of Pi opens November 21.