First Official Behind The Scenes Image From 'Iron Man 3'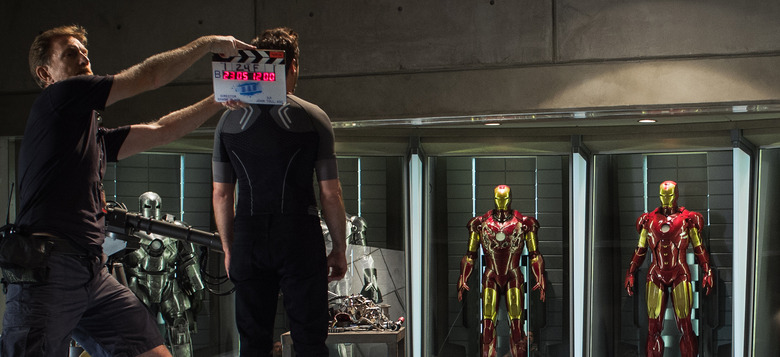 Iron Man 3 has been shooting for a little bit now, but Marvel just sent out the 'start of production' press release to make it official. Often there's not much to pay attention to in these releases beyond the confirmation of a few cast rumors, but this time we've got a photo of the shoot. You can see the production's temp logo on the slate, and the full array of Iron Man armors to date as (presumably) Robert Downey, Jr. surveys them.
There's not much else new in the press release, but through it we do learn that John Toll (Cloud Atlas, Tropic Thunder, Braveheart) is shooting the film for director Shane Black. He takes over for Matthew Libatique, who shot the previous two installments for Jon Favreau. Check out the full shot below.
Here's the image (click to enlarge):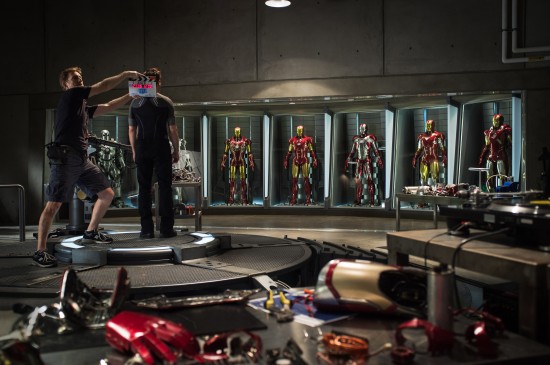 And the release:
MARVEL STUDIOS BEGINS PRODUCTION ON THIRD INSTALLMENT OF THE BLOCKBUSTER FRANCHISE "IRON MAN"
Marvel's "Iron Man 3" Commences Principal Photography In Preparation for May 3, 2013 Film Release
BURBANK, Calif. (June 4, 2012) – Following in the footsteps of the record-breaking Marvel Studios' release "Marvel's The Avengers," production on the highly anticipated film "Iron Man 3," directed by Shane Black, has commenced production in Wilmington, North Carolina. The production schedule will also include locations in Raleigh/Durham, North Carolina, Miami, Florida and China.
Based on the ever-popular Marvel comic book series, first published in 1963, "Iron Man 3" returns Robert Downey Jr. ("Iron Man," "Marvel's The Avengers") as the iconic Super Hero character Tony Stark/Iron Man along with Gwyneth Paltrow ("Iron Man," "Iron Man 2,") as Pepper Potts, Don Cheadle ("Iron Man 2") as James "Rhodey" Rhodes and Jon Favreau ("Iron Man," "Iron Man 2") as Happy Hogan. Set for release in the U.S. on May 3, 2013, Marvel's "Iron Man 3" marks the second feature to be fully owned, marketed and distributed by Disney, which acquired Marvel in 2009.
"Iron Man 3" continues the epic, big-screen adventures of the world's favorite billionaire inventor/Super Hero, Tony Stark aka "Iron Man." Marvel Studios' President Kevin Feige is producing the film. Executive producers on the project include Jon Favreau, Louis D'Esposito, Alan Fine, Stan Lee, Charles Newirth, Victoria Alonso, Stephen Broussard and Dan Mintz.
The creative production team on the film includes two-time Oscar®-winning director of photography John Toll, ASC ("Braveheart," "Legends of the Fall"), production designer Bill Brzeski ("The Hangover," "Due Date"), editors Jeffrey Ford, A.C.E. ("Marvel's The Avengers," "Captain America: The First Avenger") and Peter S. Elliot ("Fantastic 4: Rise of the Silver Surfer"), and costume designer Louise Frogley ("Quantum of Solace," "Contagion").
Marvel Studios most recently produced the critically acclaimed "Marvel's The Avengers," which set the all-time, domestic 3-day weekend box office record at $207.4 million. The film, which is currently in release, continues to shatter box office records and is The Walt Disney Studios' highest-grossing global and domestic release of all time and marks the studios' fifth film to gross more than $1 billion worldwide.
In the summer of 2011, Marvel successfully launched two new franchises with "Thor," starring Chris Hemsworth, and "Captain America: The First Avenger," starring Chris Evans. Both films opened #1 at the box office and have grossed over $800 million worldwide combined. In 2010 "Iron Man 2," starring Robert Downey Jr., Gwyneth Paltrow, Don Cheadle, Scarlett Johansson and Mickey Rourke, took the #1 spot in its first weekend with a domestic box office gross of $128.1 million.
In the summer of 2008, Marvel produced the summer blockbuster movies "Iron Man" and "The Incredible Hulk." "Iron Man," in which Robert Downey Jr. originally dons the Super Hero's powerful armor and stars alongside co-stars Terrence Howard, Jeff Bridges and Gwyneth Paltrow, was released May 2, 2008, and was an immediate box office success. Garnering the number one position for two weeks in a row, the film brought in over $100 million in its opening weekend. On June 13, 2008, Marvel released "The Incredible Hulk," marking its second number one opener of that summer.