'21 Jump Street' And 'Cloudy' Directors To Tackle 'Carter Beats The Devil'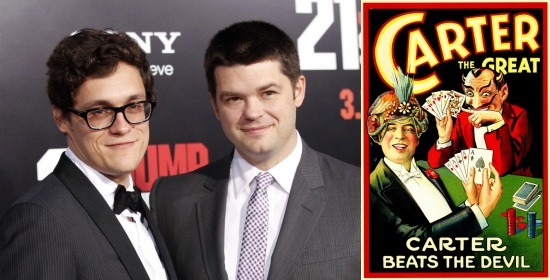 The movie adaptation of Glen David Gold's Carter Beats the Devil is one of those projects that started out with a ton of promise and momentum, and then for whatever reason wound up mired in development hell, getting kicked around town for several years.
But Warner Bros. gave it a new lease on life when it picked up the project in 2010 and set Michael Gilio (Kwik Stop) to write. Now they're taking another step forward as 21 Jump Street helmers Phil Lord and Chris Miller enter negotiations to direct. Could this version finally have potential, after all? More details after the jump.
The '20s-set mystery thriller is a fictionalized biography of the real-life illusionist Charles Joseph Carter. When President Warren G. Harding dies shortly after participating in one of Carter's shows, Carter is pursued by the authorities as a suspect. During his journey, he crosses paths with several historical figures including inventor Philo Farnsworth, magician Harry Houdini, and the Marx Brothers.
THR compares Carter Beats the Devil to Warner Bros.' Sherlock Holmes films, which makes Miller and Lord kind of a surprising pick for the job as it sounds unlike anything they've done before. On the other hand, they do have experience with tricky adaptations, having previously brought the children's book Cloudy With a Chance of Meatballs and the TV drama 21 Jump Street to life, both times with great results. Plus, they already have a relationship with Warner Bros. — the duo are currently at work filming the CG-animated Lego movie, which is set up there.