Marvel Appeals To George Lucas For 'Howard The Duck' 25th Anniversary Blu-Ray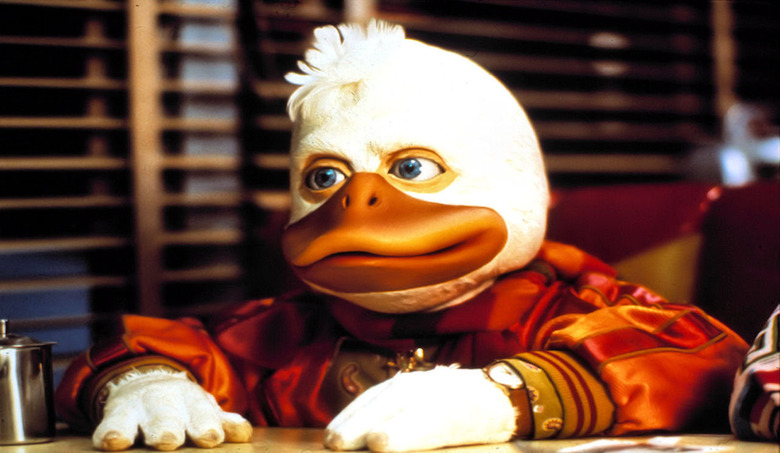 LucasFilm's red-headed step child celebrated his 25th anniversary last year with little fanfare. The 1986 sci-fi comedy Howard the Duck, starring a walking, talking duck was hyped upon release but bombed spectacularly when it hit theaters. Now it's regularly mentioned amongst the worst films of all time. Since then though, the film gained an appreciative cult fan base. Among that fan base are the people at the company that originated the character, Marvel Comics.
Yes, once again, producer George Lucas was way ahead of the curve and made a very early Marvel movie. However, the silver anniversary of the bomb-turned-cult classic has come and gone and fans are disappointed there's still no Blu-ray release in sight. Enter Joe Quesada, COO of Marvel Entertainment, who has made a video basically begging George Lucas to come on board and give Howard the Duck the respect it deserves. Check it out after the jump.
Thanks to Stitch Kingdom for the heads up. Here's the video, which is 2 minutes of a skit before Quesada comes on.
That's gotta be one of the biggest Hail Marys I remember from a fan ... and I dig that. Even if Lucas or his people never hear about this, Howard the Duck fans will rally around the battle cry. The simple fact of the matter is, a Blu-ray release of Howard the Duck is a win for everyone. Period. They aren't expensive to produce, it would sell, and money would be made. I'm sure remastering the film for the HD format probably wouldn't be cheap but it's a small price to pay for – let's face it – a interesting and memorable part of the LucasFilm legacy. The film's they've released since have certainly helped foot the bill.
Do you think a Howard the Duck Blu-ray will be released?