/Film Video Interview: Mark Duplass On 'Safety Not Guaranteed,' 'The League,' 'Zero Dark Thirty,' Netflix, Sundance And Much More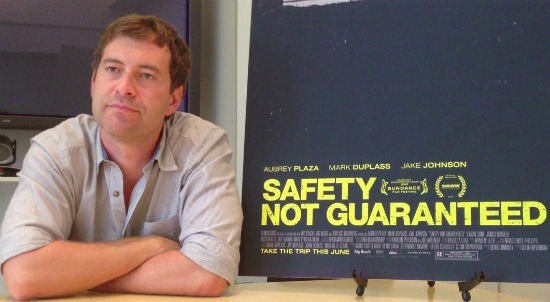 You'd be hard pressed to find a guy with more going on than Mark Duplass. First and foremost, he's the star of the wonderful and charming film Safety Not Guaranteed, which premiered at Sundance and opens June 8. In the film he plays Kenneth, a mysterious man who places an ad looking for a partner to help him travel back in time. The ad is answered by Aubrey Plaza (Parks and Recreation) and Jake Johnson (New Girl), skeptical journalists who, through Kenneth, discover their own truths.
But that's so far from everything the actor/producer/writer/director has going on. He's the star of the FX comedy The League, which has a new season about to start shooting. He was recently cast in Katherine Bigelow's Osama Bin Laden film Zero Dark Thirty, he and his brother will soon release their 5th film, The Do-Deca Pentalathon on July 6 and he'll also appear in Your Sister's Sister, starring Emily Blunt, on June 15 and People Like Us, starring Chris Pine and Elizabeth Banks, on June 29.
Yeah, Mark Duplass is busy. But he took 20 minutes out of his day to talk to us about all of it. After the jump, we've got a two part video interview where we discuss all those projects as well as his thoughts on new forms of distribution, his Netflix Recommendation A Day on Twitter, mullets, Sundance and much more.
A huge thanks to Mark Duplass for sitting down with us for this interview.
Part 1 focuses solely on Safety Not Guaranteed: its conception (Duplass is also a producer), his acting choices, its distribution and more. It's non-spoiler but is certainly enhanced if you've seen the movie.
Part 2 is about everything else: Zero Dark Thirty, The League, People Like Us, Netflix, etc.
Peter loved Safety Not Guaranteed at Sundance, as did I, and seeing it again recently it's truly the perfect date movie. It has well-known actors, plenty of romance, lots of laughs, and a sci-fi time travel mystery in the middle. There's someone for everyone and Duplass is at his best.