Sequel Bits: Kick-Ass 2, Piranha 3DD, Anchorman 2, Good Day To Die Hard, Snow White And Huntsman 2, Star Trek 2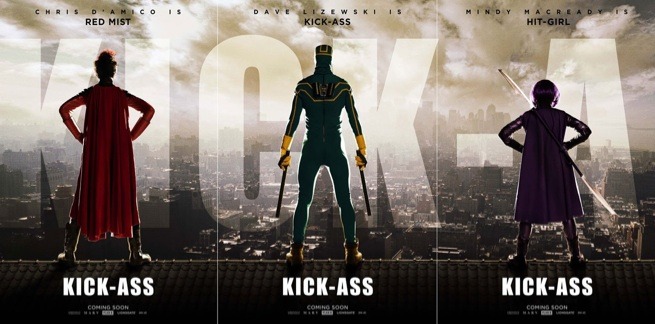 So much to get to today. After the jump read about:
Aaron Johnson, Chloe Moretz and Christopher Mintz-Plasse are all very close to signing for Kick Ass 2.
Never fear, Christina Applegate will return as Veronica Corningstone in Anchorman: The Legend Continues.
Piranha 3DD is out in theaters today as well as video on demand, making it the first 3D movie to do that.
Die Hard 5, A Good Day To Die Hard, just added Victoria's Secret and Sports Illustrated swimsuit model Anne Vyalitsyna to its cast.
A young actress' photos from the set of Star Trek 2 reveal a new Starfleet outfit.
Weak tracking numbers have Universal backtracking on Snow White and the Huntsman 2 talk.
Andy Samberg is wearing very tight, white short shorts on the set of Grown Ups 2.
Men in Black 3 gets censored in China and a wardrobe lawsuit.
It's kind of incredible but it seems like Kick-Ass 2 is actually happening. First, writer/director Jeff Wadlow signed on to adapt Mark Millar and John Romita Jr.'s comic book with Matthew Vaughn producing. Next up, the actors have to sign on since none of them had sequel deals. Producers feared that might prove difficult as all of them have seen their profiles rise since, and in large part due to, the film. Deadline is now reporting, though, that Aaron Johnson, Chloe Moretz and Christopher Mintz-Plasse are all very close to, or have, signed on for the sequel aiming to shoot this fall for a 2013 release date. Also, in a surprising twist, Nicolas Cage might sign on to return in a cameo.
Christina Applegate was the one major star of the original Anchorman: The Legend of Ron Burgundy who had yet to be officially announced for its sequel, Anchorman: The Legend Continues. Her character seemed essential too, as she ended the last film as Ron's girlfriend both serving as network news anchors. Thankfully, Celeb Buzz has now confirmed that she will return in the movie.
After plenty of delays, Piranha 3DD is finally out today in select theaters. Unfortunately for horror fans, it's playing on less than 100 screens. So if you don't have that as an option, you can watch the movie on demand right now. Why is that a big deal? Well, it's the first theatrical 3D movie to show up on demand the same day a its theatrical release. The Hollywood Reporter has the details.
Variety (via The Playlist) points out that A Good Day To Die Hard director John Moore is harnessing his inner Michael Bay by casting Victoria's Secret and Sports Illustrated swimsuit model Anne Vyalitsyna in her first acting role. No word how big her role is but, I'd guess, she plays John McClane's son's girl.
Actress Anjini Azhar plays a small role in Star Trek 2 and, while on set, got photos with a bunch of the stars. Those photos got posted online and revealed what looks to be new outfits worn by crew members of the starship Enterprise. Head to TrekMovie for more photos but here's the best one, of Azhar with Simon Pegg and Anton Yelchin.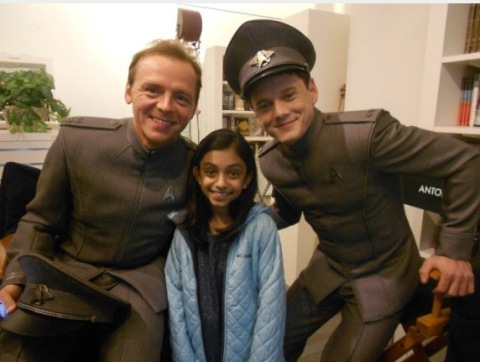 Snow White and the Huntsman opens in theaters today and Universal is certainly hoping it might develop into a franchise. However, with weak tracking numbers coming into the studio Variety says Universal is already doing damage control and it's looking less and less likely that Snow White and the Huntsman 2 will happen. It all depends on the full weekend numbers, though which, after a strong midnight showing, will likely be higher than expected. To be continued.
We don't know much about the plot to Grown Ups 2 (or the first one, for that matter cause I've never seen it) but Zimbio (via Buzzfeed) has posted a bunch of photos of Andy Samberg (and Will Forte and Bobby Moynihan) in revealing white shorts for a car wash scene. Head to the links for more.
Finally, now that Men in Black 3 is in theaters, there's some controversy surrounding it. First of all, several minutes of the Chinatown sequence were censored in China according to the Los Angeles Times. The thought is that people seeing several Chinese people neuralized could be seen as a comment on national censorship. Also, an extra who was reportedly harmed from an on-set costume is suing the production. Read more at the Hollywood Reporter.