Original Green Lantern Alan Scott Is DC Comics' Newly Gay Superhero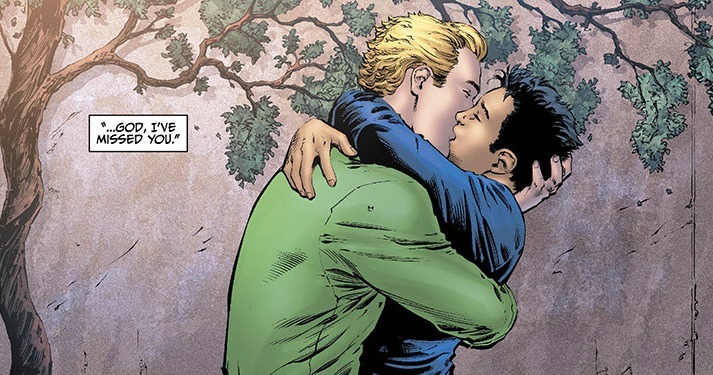 Last week, DC Comics co-publisher Dan DiDio made headlines when he revealed that a character previously established as straight would be coming out as gay in the rebooted New 52 universe. Comic book fans immediately began speculating as to the identity of the newly gay character, and now we have our answer. In a new interview, Earth 2 writer James Robinson has revealed that the newly homosexual character in question is Alan Scott, the first Green Lantern. More details after the jump.
The original version of Alan Scott was an older man, and he had a superpowered son, Obsidian, who was gay. The fact that Scott was young now [thanks to a universe-wide reboot] meant Obsidian no longer existed. I thought it was a shame that DC was losing such a positive gay character. I said, "Why not make Alan Scott gay?" To Dan DiDio's credit, when I suggested it to him, there wasn't a moment's hesitation.
While the first Scott was a radio station owner in the '40s and '50s, Robinson described the new Scott as a billionaire media industry giant who's "kind of a cross between Mark Zuckerberg and David Geffen." One aspect of the character that hasn't changed, however, is Scott's devotion to helping the world. "The Alan Scott I'm doing now is that same dynamic, brave, honorable man," Robinson said. "So really, apart from his sexuality, there isn't that much of a difference."
There's no doubt that Scott's new orientation will raise eyebrows or even spark protest in some corners. Recently, Archie and Marvel's X-Men comics have both drawn ire for featuring gay-centric storylines. But Robinson seems unconcerned by the possibility of controversy, dismissing "that kind of negativity" as "stupid and outdated." Gay characters like Scott are "a realitic depiction of society," he told The New York Post. "You have to move with the times."
Although mainstream LGBT superheroes are still few and far in between, Robinson actually has prior experience writing a gay character. He previously worked on DC's Starman in the 1990s, considered to be groundbreaking for its portrayal of a gay superhero. He has hopes that his revamped Scott will prove to be similarly inspirational.
I hope he's a positive figure. If there's some kind of kid out there who's reading the comic and who's worried about the person he is, maybe it will give him a positive sense of who he is. Or maybe a different kid will read it and decide I don't need to bully some kind of kid in school.
But part of writing a good gay character — or a good character of any orientation for that matter — is making sure he or she is layered. And Robinson emphasizes that for all the attention Scott's sexuality is getting, there's more to him than that:
I want to stress that Alan Scott is a gay man, but that's just a part of who he is. He's a businessman. He's a hero. He's a lot of different things. His sexuality is a part of him, but it isn't his defining trait. He's an interesting, complex character that I think people will respond to on many levels. He's the epitome of heroism.
As for what kind of adventures the new Scott will be facing, Robinson said that Earth 2 would eventually see the whole Justice Society team coming together and encountering their first villain. He was understandably reluctant to reveal the identity of the bad guy, but he did give up one hint. "The only clue I'll drop is that he's a classic Justice Society villain, but he's also a classic Alan Scott/Green Lantern villain," he teased.
Check out sample pages and the cover from Earth 2 #2 below: