TV Bits: 'Mockingbird Lane', 'The Walking Dead', 'The Wire', 'Dexter', 'L.A. Noir', 'True Blood'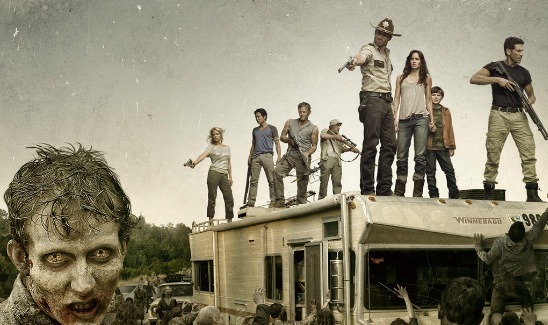 Among today's TV-related odds and ends:
See photos of the Mockingbird Lane set under construction
AMC announces a Walking Dead marathon, releases new still
Everyone's favorite show, The Wire, gets an oral history
Thomas Jane joins Frank Darabont's L.A. Noir on TNT
Tina Majorino boards HBO's True Blood for Season 5
Will Dexter Season 7 pick up where Season 6 left off?
What gorgeous detail — not that we expected any less from the man who brought us the sumptuous visuals of Pushing Daisies. While you can't actually go over and hang out at the Munster home, you can catch a peek of the structure from the tram tour of Universal Studios in LA. Head to On Location Vacations for more pics.
Summer can be kind of a dead time for TV, with so much of the regular programming on hiatus, but networks are doing what they can to entertain. AMC has scheduled a marathon of its zombie drama The Walking Dead for July 7-8, starting at 11:30 AM each day. The marathon will encompass all nineteen episodes of the series to date, and conclude with a special hourlong episode of the Walking Dead show The Talking Dead on July 8 at 9:00 PM.
The very first episode of the series will be shown in black and white, as a nod to Robert Kirkman's original comic book series. The Talking Dead show will also include details on "The Walking Dead" Watch to Win Sweepstakes, in which one viewer will get a trip to Atlanta for a walk-on role on the show.
To whet your appetite for more zombie kills, AMC has also released this new still from Season 3: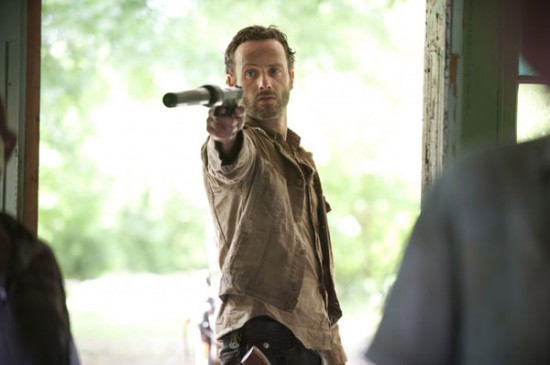 The Walking Dead will return to AMC this fall. [Dread Central]
Has it really been a decade since the debut of HBO's The Wire? Apparently! And what a long way it's come since then: While the show struggled to gain traction with viewers early on, over time it's gained a reputation as a bona fide modern masterpiece. To celebrate that anniversary, Maxim's posted a must-read oral history of the Baltimore-set drama.
Tons of people once involved with the project (including creator David Simon, writer/co-exec producer Ed Burns, stars Idris Elba, Michael K. Williams, and Dominic West, and many, many more) weigh in on everything from how the show came to be, how the cast and crew spent their downtime, and how it felt to be perpetually ignored by Emmy voters. Head to Maxim.com to read the full piece. [via Vulture]
Frank Darabont's L.A. Noir has picked up another familiar face, and no, it's not another former Walking Dead star. Thomas Jane, of HBO's recently cancelled Hung, is in talks to play legendary gangster Bugsy Siegel in the TNT drama — but only if it actually passes the pilot phase to get picked up to series. The character may appear in the pilot in the form of "printed materials."
Set in '40s and '50s Los Angeles, L.A. Noir centers arond the real-life struggle between the LAPD and the city's gangsters. Jon Bernthal, Neal McDonough, Jeffrey DeMunn, and Andrew Rothenberg are all set to play LAPD cops, while Milo Ventimiglia (Heroes) will play an ex-Marine who's now becoming a "fixer" for the mob. Also set to appear, as a guest star, is Simon Pegg. [The Playlist]
Tina Majorino already knows a thing or two about dealing with weirdos, having starred in Napoleon Dynamite, but she'll be handling a whole other level of outrageousness in her new gig. The Big Love and Bones alum has just landed a recurring role in HBO's True Blood, as "a key member of the Vampire Authority's support staff."
Majorino will make her debut in the third episode of the upcoming fifth season, which airs on June 24. Season 5 begins June 10. [TV Line]
That first teaser of Dexter's seventh season didn't offer any hints, but this new report from the set might. A reader at On Locations Vacations dropped by the South Pasadena, CA set and noticed that the cast was shooting in the same location where the sixth season ended (spoilers follow):
I didn't see any of the cast. The whole cast [including James Remar (Harry)] was filming in the "Doomsday Church", that's where the season six finale left off. Then some of the cast went across the street to film scenes inside a house. New actors were filming inside the house [including] two kids and their parents.
That could mean that Season 7 picks up right where Season 6 left off — or it could just mean that the characters later go back to the same site. OLV also has a few snapshots of the set, though they don't really give anything away. Season 7 premieres September 30.