Adam Sandler Replaces Mark Wahlberg In 'Three Mississippi,' And It's All 'Battleship's Fault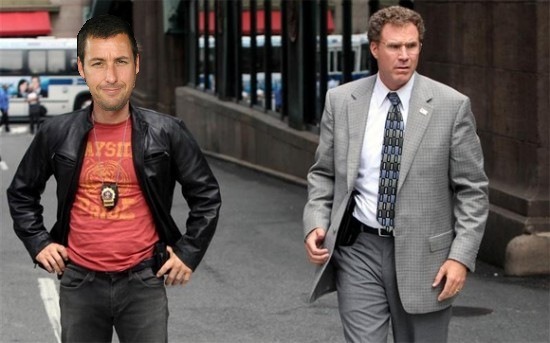 Whatever its flaws, The Other Guys boasted a crackling comedic duo in Mark Wahlberg and Will Ferrell, so we were excited to hear about a re-team for the two stars in the football comedy Three Mississippi. But alas, it's not meant to be. Adam Sandler has just replaced Wahlberg in the film, which centers around rival families engaging in an annual tackle football match. Surprisingly, it'll be the first time that comedy heavyweights Sandler and Ferrell have starred in a feature together. More details after the jump.
In the run-up to Battleship, Universal started getting nervous about the film's financial prospects. In late February, Universal decided to only distribute, not finance, Peter Berg's upcoming SEAL thriller Lone Survivor. This sent Lone Survivor scrambling for more money, and Emmet/Furla Films finally agreed to pitch in — but only if Wahlberg made it his next film.
Meanwhile, in March, Ferrell and McKay's long-rumored Anchorman sequel suddenly and unexpectedly received the go-ahead from Paramount, and got on track to shoot in early 2012. Those two developments combined meant that Ferrell and Wahlberg's next window of opportunity to shoot Three Mississippi together would be almost a year out. With Warner Bros. hoping to started this fall, Ferrell ultimately chose to press on ahead rather than wait.
The scheduling changes had repercussions behind the camera as well. Anchorman 2's sudden revival left McKay suddenly unavailable to direct Three Mississippi. Last we heard, Hot Tub Time Machine writers Sean Anders and John Morris were in talks to rewrite and direct together, but Vulture's latest report makes it sound like Anders will be taking over at the helm solo. Anders has worked with Sandler once previously, on this summer's That's My Boy. Before that, Anders was behind the underrated Sex Drive.
It's disappointing to hear that Wahlberg will no longer be re-teaming with his The Other Guys and The Departed co-stars for this project. But Sandler, for all of crappy titles on his resume, can be a welcome comedic or even dramatic presence in the right project, and I'm curious to see what his first collaboration with Ferrell will be like. And hopefully, they'll have a strong ensemble backing them up. We've heard before that the goal was to bring in a large comedic cast, with names like Baldwin, Rob Riggle, and Jeremy Renner rumored.