'Branded' English-Language Trailer: Advertising Is A Monster, And It Might Kill Us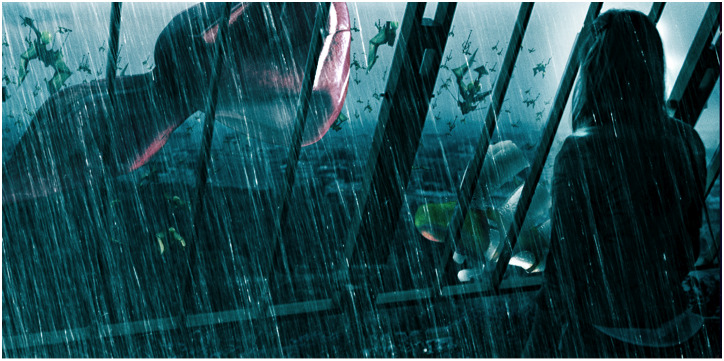 This is not a commercial. Well, it is. It's not a commercial for a burger chain, but it is a commercial for a film called Branded. The movie is the product of a couple of ad guys, Alexander Doulerain and Jamie Bradshaw, who have drawn some conclusions about the nature of marketing. The prime conclusion seems to be that marketing is part of a takeover of the human race, and one masterminded by something inhuman.
A few weeks ago we saw a version of this trailer for Branded, but it was dubbed in Russian. Now the English-language version is here, so you can actually tell what's going on; you won't just have to look at the faces of Jeffrey Tambor, Max von Sydow, Leelee Sobieski, and Ed Stoppard.
There's a lot in that trailer that I think any fan of b-movies would respond to: the paranoia, the weird visualizations of the pervasive alien-marketing-tentacle-things, the over the top recreation of ideas from They Live and other established sci-fi.
But is Branded more than that? I was listening to a Charlie Kaufman screenwriting lecture while editing this, and he talks about the business of entities "selling something that's important to them by disguising it as something that's important to you." There seems to be something of that in the story within Branded, but what is the movie really selling, and is it going to be useful to any of us beyond the context of b-movie thrills?
Yahoo has the trailer. Branded hits later this year, likely in September.
After Misha skyrockets to the top of the advertising business, a tragic mishap on the set of one of his productions torpedoes his career and he retreats into self-imposed exile. Ten years later, Misha returns to a radically changed world and finds himself plagued by visions of bizarre and terrifying creatures with the ability to influence people?s thoughts, desires and actions. Creatures only he can see.
He soon realizes the creatures are part of a clandestine campaign unleashed by a rival advertising agency to make ?fat the new fabulous? and create a new era of uncontrolled consumer appetite. In order to save mankind, Misha uses his own considerable marketing skills to launch an ingenious plan to try to eradicate the plague. But the corporate legions will not go down without a fight.