Sequel Bits: 'Riddick,' 'Skyfall,' 'The Expendables 2,' 'Captain America 2,' And A Dream Of 'Blade Runner'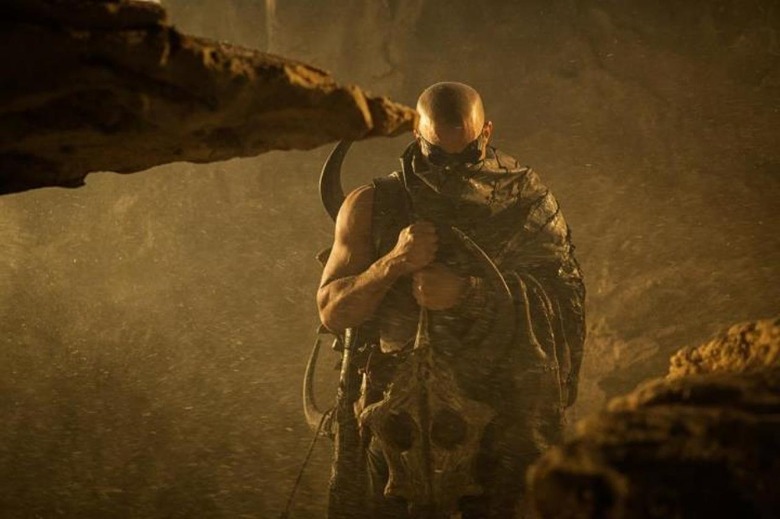 That's a new still from Riddick, above, which was recently shared by Vin Diesel. In addition to that, this Sequel Bits features the following stories:
Casino Royale title designer comes back to open Skyfall
Sly Stallone gets happy in a clip from The Expendables 2
Captain America 2 may follow Iron Man 3 to North Carolina
and Katy Perry wants to be one of Ridley Scott's replicants.
Diesel shared that header image (click it to expand) on
, as per his usual method. He also said,
You know I like to let you in on things, even before Hollywood knows...Haha... Last night I was invited in to the editing room, to see the first cut of the new Riddick... WOW!!! P.s. I was so affected/excited... I couldn't sleep. GRRRR!!!
OK, so marking Diesel down as "psyched" for the third Riddick movie, which was written and directed by David Twohy. The plot features Riddick (Diesel) left for dead on an all-but-lifeless planet — turns out there's some life left, and that life is a batch of serious alien predators. Oh, and his presence on the planet also attracts bands of mercenaries that want his head. So that's kind of a mess.
Riddick doesn't have a release date at this point. It also features Karl Urban (Star Trek, The Bourne Supremacy), Jordi Mollà (Bad Boys II, Colombiana), Matt Nable (Killer Elite), Katee Sackhoff (TV's Battlestar Galactica), Bokeem Woodbine, Dave Bautista (The Scorpion King 3: Battle for Redemption), Conrad Pla (Immortals), Raoul Trujillo (Apocalypto), Nolan Funk (TV's Aliens in America) and two-time Grammy Award-nominated singer Keri Hilson.
says that Daniel Kleinman is once again designing the title credits sequence for the latest James Bond film, which in this case is Skyfall. 007 films are known for elaborate, highly-stylized credit sequences featuring nude silhouetted women, guns, and whatever actor is currently playing Bond.
Kleinman's previous work for the series includes his debut, GoldenEye, and Tomorrow Never Dies, The World is Not Enough, Die Another Day, and Casino Royale. (
) Skyfall will be his sixth Bond credit sequence. Check out a breakdown of Kleinman's Casino Royale work
.
Want a new taste of The Expendables 2? How about a clip featuring returning characters Barney Ross (Sylvester Stallone), Lee Christmas (Jason Statham), as well as a brief appearance from Liam Hemsworth? Check it out, via
:
OK, Stallone's happiness at the end of that sequence is pretty cute. The film opens on August 17, with Arnold Schwarzenegger, Bruce Willis, Jet Li, Dolph Lundgren, Terry Crews, Randy Couture, Jean-Claude Van Damme, and Chuck Norris all featured, and Simon West (Con Air) directing.
Captain America 2 might take up residence in North Carolina when Iron Man 3 is finished in the state.
learned that with tax breaks set to expire in the state, the legislature there is trying to extend them for some time, and State Rep. Danny McComas said the extension could help North Caronlina land the Cap sequel. We still don't know what the film's story will be, however — maybe Cap just wants to hike in the mountains and catch a Superchunk show in Chapel Hill.
Finally, just because this is pretty entertaining, Katy Perry wants to be part of the Blade Runner sequel; specifically, she dreams of being Rachel. She says as much in the video below, via
.