Spy Photos Confirm A Major 'Iron Man 3' Spoiler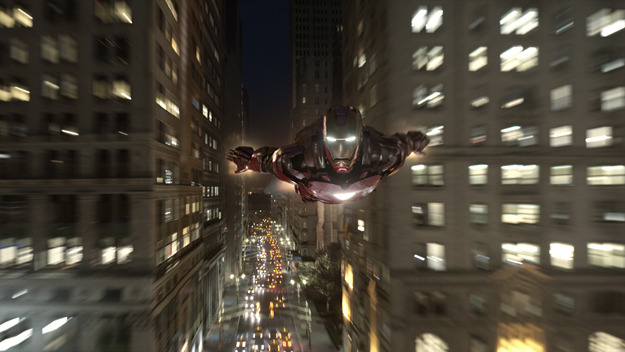 Earlier today, two sites revealed interesting tidbits about Iron Man 3. One concerned the hiearchy of villains and the other mentioned the appearance of a new type of armor. The second one made sense as every time Iron Man has appeared in a Marvel movie, he's upgraded armor over the course of the film. Now, spy photos from the North Carolina set of Shane Black's May 2013 film have 100% confirmed that a new armor is in the film and who will be suiting up.
If, to this point, you've avoided the spoilers, you probably shouldn't jump below. But we're about a year away from release and it's going to be difficult to avoid this for that long.
Spoilers for Iron Man 3 in the rest of this post.Coming Soon was the first to report that Iron Man 3 would feature the Iron Patriot suit, sort of a blend between Captain America in Iron Man armor that initially appeared in 2009's Dark Avengers #1. The suit was worn by Norman Osborn (yes, of Spider-Man fame) as a way to make Iron Man more patriotic in the wake of Captain America's death.
Well, the Iron Patriot is most definitely in Iron Man 3 thanks to these blurry set photos taken by The Superficial. Check them out.
The Osborn story can't be part of Iron Man 3 because he's Sony's character, however, The Superficial says James Badge Dale's character in the film, Eric Savin, will be donning the suit. As he'd been reported as a villain, it's safe to say – despite his pleasant visage – the Iron Patriot is not a good guy in Iron Man 3.
Latino Review's story on this topic promises the Iron Patriot is not the only new armor that will appear in Iron Man 3 and, also, says it might not be Iron Patriot at all. Instead they surmise it might be Detroit Steel.
Either way, this is certainly an interesting development. How do you think it fits into the film?